Goal United
Ledley praises physio for miracle Euro comeback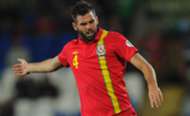 Joe Ledley says he could never have hoped to be preparing for Wales' clash with England on Thursday without the great work of Crystal Palace physio Sean Connelly.
Ledley returned to the pitch on Saturday just five weeks after suffering a broken leg playing for Palace against Stoke, coming on as a second-half sub to play a part in Wales' winning goal against Slovakia in Bordeaux.
And the midfielder insists that physio Connelly, who is also on the Welsh national staff, deserves immense credit for getting him fit for the Dragons' European Championship bow.
"When I had the scans back and saw the fracture I thought, and the majority of the staff as well thought, it was game over," Ledley told reporters when asked whether he initially thought his Euro dreams were over.
"But to come back in 35 days, I've got to give Sean the physio at Crystal Palace and Wales the credit because without him I don't think I'd have been here.
"I started to think I had a chance about a week after I did it. I'd worked in an oxygen chamber for the whole week, on a bike, everything, and Sean was confident as well in me and just said 'Let's see what happens and take it week by week'.
"I kept having scans and they kept getting better and better, but you can't take anything for granted so I'll see how I feel in the next couple of days."
The 29-year-old added that preparation had gone extremely well in the weeks before the Slovakia game, and also thanked Wales boss Chris Coleman for taking a chance on him.
"Training was completely fine. To be fair I think this is the strongest I've ever been physically, and I was just emotional when I was coming on because I didn't expect to be here. So credit to the gaffer as well for picking me in his 23, it was good to come on and make an impact."
Ledley, who played for Cardiff and Celtic before joining Palace in January 2014, says that a decision on his chances of starting against England won't be taken immediately.
"We kick on now, we'll have a review of their game and see what happens. I'm not sure if I will start. I'll just see what happens in the coming days and see how I feel. I don't want to push it too much."
Former Wales striker Dean Saunders responded to the 2-1 victory over Jan Kozak's side by claiming his nation could lift the trophy in France, but Ledley was more realistic when told of the ex-Aston Villa and Liverpool man's bold prediction.
"You never know! Greece has done it so we'll see what happens, but we can't get too carried away and we'll wait and see.
The aim was just to get out of the groups, and that remains the aim at the moment. It's going to be very difficult, we've got two hard games and every game is going to be difficult.
"We need to keep our heads down, keep working as a team, and we've got the best team bond I've ever seen in the camp. We've all known each other for many years now and we just need to keep that strong."
Wales and England come head to head in Lens on Thursday in a much-anticipated 'Battle of Britain' with Coleman's side having a two-point advantage after the first round of fixtures.