Wojciech Szczęsny
Led by lethal Lewandowski, Poland are the dark horses of Euro 2016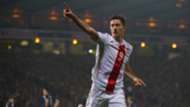 ---

COMMENT
---
Hosts France, World champions Germany and reigning title holders Spain may be considered the favourites to lift the Henri Delaunay Trophy at Euro 2016, but there remains a strong group of teams with an outside chance of claiming glory this summer. Cristiano Ronaldo-led Portugal, Luka Modric's Croatia and a Belgium side powered by Kevin De Bruyne and Eden Hazard are all considered capable of springing a surprise and going far in the competition.
However, with a balanced and deadly strike partnership, an intelligent playing style and entering the competition off the back of a strong qualifying campaign, Poland are another side who certainly have what it takes to reach the advanced stages.
Despite having never won a game at a Euro finals, being drawn alongside Germany, Ukraine and Northern Ireland should see Adam Nawalka's men escape Group C fairly simply.
The Central European nation have the luxury of relying on the world-class exploits of Robert Lewandowski – who finished top scorer in qualifying with 13 goals and ended 2015-16 with an incredible 42 goals in 51 games in all competitions for Bayern Munich.
All attention will be on Lewandowski in Sunday's opener against Northern Ireland, but the national team is so much more than the 27-year-old. Even their attack should be feared for reasons other than the Bundesliga top scorer.
In Arkadiusz Milik, Poland have an emerging striker who shone for his country throughout the qualifying campaign. Milik netted six times in the nine games he played, starting alongside Lewandowski each time and showing that he can add a lot to the team regardless of whether he lines up as a centre-forward, an attacking midfielder or in a wide role. In qualifying, the ex-Bayer Leverkusen player powered the White Eagles to victory over Germany, whom they will take on in the finals in Group C.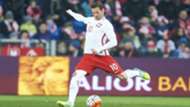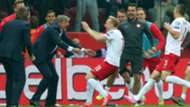 The 22-year-old has been hailed as a future European star and, while he has been underwhelming for a large part of his two seasons at Ajax, he ended the 2015-16 campaign strongly, netting 12 goals in the final 11 Eredivisie games – 21 in 31 overall. The partnership he has developed with Lewandowski and his movement off the ball has become crucial for Poland and will be integral to their prospects this summer.
The prospect of these two lining up has lifted the spirits of Poland, and Milik understands that expectations are high.
"I'm aware of what's been going on in Poland," he told UEFA's official website. "There is definitely a lot of hype – big demands, big pressure, big expectations. And it's football. We are in a beautiful tournament.
"We've not set ourselves a particular goal, like: 'We'd like to make it to the final.' The most important goal for us at the moment is simply to qualify for the next round. For now, we want to focus on 'A' rather than thinking about 'Z'."
But Poland's strengths lie beyond the front two. One of the critical players in Nawalka's squad is Grzegorz Krychowiak. The defensive midfielder played every minute of the qualifying campaign and is absolutely pivotal to everything the team do. Sound and neat in possession, smart in his positioning and a devastatingly effective tackler, the Sevilla star can dominate midfield with ease. He is as big a part of his side's hopes this summer as Lewandowski.
Krychowiak will be key in maintaining the balance in the Poland set up, with the full-backs lending a great deal of support to the attack.
Lukasz Piszczek was solid for Borussia Dortmund after regaining his spot in Thomas Tuchel's side and showed his attacking prowess throughout the second half of the campaign – becoming one of BVB's top and most accurate crossers despite starting only 16 league games. Piszczek will have Jakub Blaszczykowski playing further ahead and will be hoping to boost his side's attack, but his lack of playing time on loan at Fiorentina could mean he heads into this tournament fairly rusty and not at his once brilliant best.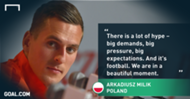 The backline is further boosted by the prominence of Kamil Glik. The Torino captain has been fantastic in Serie A and was solid throughout the qualifying phase, missing only one game due to suspension. Resolute and a true leader, Glik will boss the backline ahead of first-choice goalkeeper Lukasz Fabianski for Nawalka's side and is someone the whole squad will be happy to rely upon for defensive solidity.
The make-up of Poland's squad is impressive, and it all ties together well in the playing style the coach has developed. It took some time for Nawalka to work out his best squad, but with just one defeat in the qualifiers he showed that he has put together an exciting team capable of playing attacking football with good pressing off the ball.
And Poland are still developing on that front. Wins over Finland and Serbia in March kept them in good form, but their most recent results – a defeat to an unqualified and youthful Netherlands squad and a 0-0 draw with Lithuania – has raised some concerns. The coach, though, is not worried.
"The co-operation between each formation looks better and better," Nawalka told World Soccer.
"The team has made a lot of progress over the last year. Mental, tactical and physical preparation are on a high level. Our actual form will be down to the choice of players for the final squad.
"We were perfectly prepared, tactically and mentally, when we played against Germany [in the qualifiers]. I believe it will be the same in Paris. Ukraine have a very solid team. Generally, the schedule of our games is good.
"It is the result of over three years' hard work on the part of the players as well as the entire coaching staff. But selection in the national team is never over."
And the 58-year-old has every right to be confident. With a good blend of class, youthful energy and experience as well as a great balance and resolve to the team, Poland have a great chance of doing something special at Euro 2016.