World Cup
Lampard & Gerrard England's golden generation? 'Nonsense', claims Ince
10:27 PM GMT+8
14/06/2018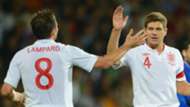 Paul Ince has rubbished talk of Steven Gerrard and Frank Lampard having graced England's golden generation, with the former Manchester United and Liverpool branding such a billing as "nonsense".
It is widely acknowledged that a squad pieced together in the early 21st century is the best, on paper, that the Three Lions have produced in the modern era.
A team bossed by Sven Goran Eriksson went to three major tournaments, but made it no further than the quarter-finals at any of them – despite being able to call upon the likes of David Beckham, Rio Ferdinand, Wayne Rooney and Michael Owen.
Ince made it to the semi-finals with England at Euro '96, before seeing penalty heartache strike again at the 1998 World Cup, and he believes those teams were better than the ones which followed and attracted so much attention.
A man who earned 53 caps for his country told Planet Football: "People talk about the Gerrard and Lampard team as being the Golden Generation for England, but that is nonsense.
"The team I was a part of was the golden generation and I think we proved that with the performances we put in when it mattered most, in major tournaments.
"I look at the 2002 and 2006 World Cup performances from the so-called Golden Generation and they were not comparable to the way we played against Holland and Germany at Euro 96 or the performance we put in against Argentina in 1998.
"That was the Golden Generation and the FA messed it up by sacking two excellent managers in Venables and Hoddle.
"Some of things England managers have been getting up to in the years since have put into perspective the so-called reasons why the FA got rid of those two managers, but the damage was done and it cannot be repaired.
"Hoddle was so inventive as a manager. We all respected him as a great player, but working with him was fascinating.
"He spent time with Wenger at Monaco and brought all that experience with him into the England job, and you can only learn from someone like that, whatever level of the game you might be working at.
"He was a manager before his time. Some of things he brought to the England squad were introduced to Premier League clubs a few years later and people only realised how good he was when he was gone."
England have disappointed at recent international tournaments, with Fabio Capello and Roy Hodgson flopping, but Gareth Southgate's class of 2018 have the chance to make amends in Russia.
Their World Cup campaign kicks off on Monday against Tunisia.