European Championship
Lahm: 24 teams at Euro 2016 just means a bigger party!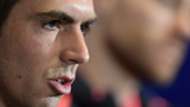 ---

EXCLUSIVE
---
This year is the first time 24 teams will take part at the European Championship and, in general, I believe this is a good thing.
With more countries taking part, more fans will watch, get excited and celebrate the tournament. This is a major part of our sport, football lives through it. And the football party gets even bigger because of it.
On the other hand, there is now an extra match to be considered because of the round of 16. It increases the load on the players and means it is very important to have a strong squad, because all 23 players will be needed to fight for the title.
Each player and team must perform to the best of their ability. The weeks you spend together are very intensive. Any conflicts must be solved immediately and decisions must be taken quickly, so that the group acts as a team. This is the only way to be successful. Many players have international experience from their clubs, which always helps.
In football, surprises are always possible. At Euro 2004 - my first as a player - Greece won the title. A team nobody thought could win it.
I am sure there will be events this summer which nobody expected. It is clear for me who has the best chance to win the title, who I am cheering for and where I will watch the tournament. Find out all that and more in this video column for Goal.