Transfers
Klopp vows to keep spending 'big money' on the back of £75m Van Dijk deal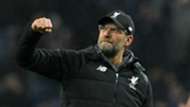 Jurgen Klopp says Liverpool are prepared to build on their £75 million signing of Virgil van Dijk by continuing to invest "big money" in the transfer market.
The Reds parted with a club-record fee during the winter window to acquire a Netherlands international defender from Premier League rivals Southampton.
That addition was then countered by the sale of Philippe Coutinho to Barcelona in a deal which could be worth €160m.
Klopp will have more funds available in the summer as a result, and the German insists he will have no problem raising the spending bar again if the "right player" becomes available.
He told reporters: "If the player is the right player, this club will pay big money.
"When the player is the right player it is not important how expensive he was. He needs to fit in the team, that's why we paid the price [for Van Dijk].
"You can't say you want a player, they give you a number and you say: 'Right we will pay that'. That's not how it should work.
"Probably a few teams have players and other clubs want to buy them so think it can happen like that but we all need to stay kind of serious.
"Even if some of us will not be serious in other countries to solve their problems with the next big signing, then the next big signing!"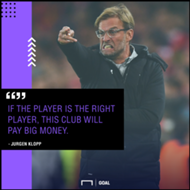 While ready to identify top targets, Klopp has suggested that the next window will be another of evolution rather than revolution at Anfield.
"It still needs to be the mix of bringing in the new player and letting the group grow. That's how it is," he added.
"If you always change four or five positions it's wrong. You don't make the team better. You can make it better in the long term but in the long term nobody is waiting for it.
"It's all about timing, doing the right thing at the right moment. If it's not the right player, it's not the value of the player."