Liverpool
Klopp misses out on Bayern man as Dortmund could profit
Jurgen Klopp has been unsuccessful in persuading Bayern Munich's prevention and rehabilitation specialist Dr. Andreas Schlumberger to join Liverpool.
Sutton keeper resigns over pie-eating bet
The Reds boss had attempted to convince the 50-year-old to follow Mona Nemmer and Andreas Kornmayer by switching the Allianz Arena for Anfield. 
The pair made the move last summer as head of nutrition and head of fitness respectively, but Schlumberger will not be reuniting with them as part of the Reds' backroom staff as it stands.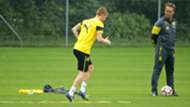 Should he depart Munich, a return to Borussia Dortmund is thought to be preferred, where he served under Klopp between 2011 to 2015. 
Schlumberger also previously worked with Germany's youth teams as well as Nürnberg and is under contract at Bayern until 2019.