African All Stars
Klopp: Liverpool won't stop Mane from joining Senegal for World Cup qualifiers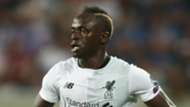 Liverpool manager Jurgen Klopp disclosed that Sadio Mane will join Senegal for the 2018 World Cup qualifying fixtures against South Africa.
Aliou Cisse's men lock horns with the Bafana Bafana on November 10 and 14 in a bid to secure their ticket to Russia 2018 and the Red boss said he won't block the 25-year-old who just returned from an undisclosed injury he picked up in the last international break from representing his country.
"Things are like they are, we cannot change that. We cannot sit here and ignore the situation of Senegal and say we don't care if they play in the World Cup – that's not nice and it's not right," Klopp told club website.
"We will get into contact with Senegal FA and they have two games to play. Sadio is not injured anymore. Is he 100 per cent fit? That's different, but he is on a good way and yesterday he looked really good. We will have to see what we do. If you see Sadio training, you are like, 'OK…maybe we can use him!' and maybe that's the same for Senegal.
"He has to go there, then he has a few days' training and if they can get the points they need [in the first game] then maybe we can talk again and ask them is it necessary [for him] to play the second game so he could come back. That would be the ideal situation but we cannot decide it; FIFA does not give the clubs the opportunity to decide when players play for their countries. They are clear rules and we respect them.
"In this specific case, it is good for his rhythm. I have no problem with our players playing for their national teams, it's only that we need to know as much as possible about the circumstances, what they do in training and stuff like this. That's really important for us.
"The games are always on different pitches, different surfaces, but the intensities are similar – but the training is different and that's what I would love to have more influence on in the future. Not to tell them how to train, only to know about and react about. In Europe that is easier to be honest, but that's how it is and it is no problem again.
"If Sadio can play I really think he should because it is good to get some rhythm, otherwise he would not have played for I don't know how many weeks with the red card and then the injury. Then we play Southampton so it would be nice if he is in a kind of a rhythm.
"The injury risk is always there, even in training we cannot avoid that. I have no problem with him going to Senegal, but maybe we can talk again."