African All Stars
'Prove Guardiola wrong' – Twitter reacts to Iheanacho joining Leicester City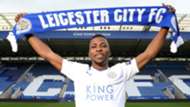 Leicester City have confirmed the arrival of Kelechi Iheanacho from Manchester City…to the surprise of absolutely no one.
The forward moved to the Foxes for a fee reported to be £25 million, with the 20-year-old teaming up with compatriots Ahmed Musa and Wilfred Ndidi at the King Power Stadium.
While at Manchester City, Iheanacho played 46 Premier League games and scored 12 goals, but found himself behind Sergio Aguero, Wilfried Bony and Gabriel Jesus in the pecking order.
From sheer excitement for the youngster and the criticism of Pep Guardiola, Goal takes a look at the best, and worst, of the Twitter reaction.
Congrats @67Kelechi on your move to the King Power Stadium. I wish you nothing but success in this new journey. Keep your head up high ! pic.twitter.com/1mdOzutCFc

— Mutiu Adepoju (@MutiuAdepoju8) August 3, 2017
Oh, and after a 'protracted' medicals Kelechi Iheanacho becomes a Fox!

Would be nice seeing him link up well with Vardy, and Musa, perhaps

— Tolu Olasoji (@Tollexrism) August 3, 2017
All the best @67Kelechi . Bang in the goals and prove Pep Guardiola wrong !

— 'Shina Oludare (@sportingshina) August 3, 2017
So Pep Guardiola sells very highly-rated youngster Kelechi Iheanacho, who will be fantastic at Leicester. Promoter of youth? Funny that.

— Liam Canning (@LiamPaulCanning) August 3, 2017
With Kelechi Iheanacho's move to one of the best teams in the premiership, Leicester City, i can now name my dog Pep Guardiola

— boluwaji bamidele (@boluwajibamidel) August 3, 2017
Woah! Fantastic signing for Leceister. If Iheanacho were English he'd easily go for double that. #LCFC

— Pressan 🐼 🐏 (@Pressan10) August 3, 2017
Kelechi Iheanacho & Jamie Vardy just scared 19 other teams with the prospect of them running at them. Welcome to Leicester lad! #LCFC

— Robin Popley (@robinjdpopley) August 3, 2017
welcome @67Kelechi #LCFC

— Ash Bash (@AsH_LcFc_4_LiFe) August 3, 2017
Finally! #WelcomeKelechi https://t.co/dAH1Tr8qNC

— Solace Chukwu (@TheOddSolace) August 3, 2017
Iheanacho announcement clearly overshadowed the Neymar one, sorry PSG fans

— Ben (@Vardesque) August 3, 2017
Took us 3 months to sign Iheanacho.

Took PSG 3 days to sign Neymar. #LCFC pic.twitter.com/oc4U5LRERG

— George (@PossiblyGeorge) August 3, 2017