Gareth Bale
Keane: Ireland don't have any particular plan for Bale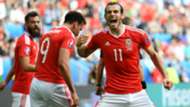 Roy Keane says that the Republic of Ireland don't have "a particular plan" to deal with Gareth Bale when they play Wales on Friday, but insists that the Irish players are looking forward to the challenge.
Real Madrid attacker Bale is unquestionably Wales' key player and, with 26 international goals, he is closing in on the record set by his compatriot, former Liverpool striker Ian Rush.
Ferdinand: Tragedy drove me to drink
The 27-year-old has already bagged three goals for his country in the current qualifying campaign and will be keen to make his mark against the Boys in Green as his side aim to close the gap to the Group D leaders.
Keane conceded that Ireland had not put  a special plan in place to deal with the former Tottenham star, but stressed that they would respect a team that also contains talents such as Arsenal's Aaron Ramsey and embrace the challenge.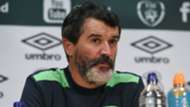 "Do you not think other players and coaches have tried to come up with a plan before?" Keane said at a news conference. "But the top players seem to figure it out and they'll affect the game.
"Bale has done that for a number of years for Madrid and on the big occasions. I can't say we have any particular plan, but having said that, we will respect all the Welsh players.
"They have got some good players around Bale who give him that foundation to go and express himself, so that's why he has a big impact on all their results, whether it be goals or assists. The stats will tell you that.
"But your eyes don't lie to you: He's a good player and we look forward to the challenge of challenging ourselves against him."
The former Manchester United captain revealed that he has been a big admirer of Bale for a long time, as far back as his breakthrough years at Southampton.
The Welsh forward has gone on quite a journey since his time at St Mary's, evolving into one of the most  influential attacking players of the modern era.
Bellerin makes Barcelona admission
"He's a top, top player," added Keane. "He's a brilliant player who has been doing it regularly at the highest level now for the last few years.
"I have always liked him. I even liked him when I was manager at Sunderland (Bale was a teenager at Southampton).
"He's a top player, I like watching him playing. He's a big player for Wales and a big player for Real Madrid.
"Do you know what? Our lads should look forward to the challenge of playing against the best."