World Cup
Kante has been the World Cup's best player, says Lineker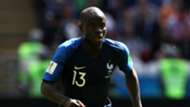 England great Gary Lineker believes N'Golo Kante has been the outstanding player of the World Cup and has backed the Chelsea midfielder to make the difference in Sunday's final.
Kante is expected to feature alongside Paul Pogba in the heart of France's midfield as they face Croatia in Moscow, having shown a fantastic level of consistency at the competition to date.
And ex-Barcelona striker Lineker believes Kante eclipses even Luka Modric as the hero of the tournament for Les Bleus.
"For me, until now, N'Golo has been the best player at the World Cup," he told L'Equipe. "He's not really the type of guy we speak about or try to push forward as a star. 
"With Kante, France play with 12 men.  He counts as two midfielders on his own. He's everywhere. 
"His quality of pass is excellent and he can break the lines. He's able to push the ball forwards. Honestly, it's a huge advantage to have Kante in the team. He's one of the keys to France and is one of the reasons they're a big favourite for the final."
Kante previously played for Leicester, the side that Lineker supports, and the former goal poacher admitted he's got a real soft spot for the 27-year-old.
"I'm a big fan," he confessed. "In his position, he's the best player I've ever seen. 
"He has an incredibly reading of the game. He intercepts balls that are impossible. He runs everywhere. He's a real thief. The way he takes the ball from the feet of his opponents, without them appearing to notice, is incredible. And then he uses the ball quickly and well.
"He's not only essential for the balance of the team, but he helps his team-mates. Would Pogba be the same without N'Golo beside him? Would the central defenders, Samuel Umtiti and Raphael Varane would not have the same assurance if N'Golo was not in front of them?"
Indeed, he pointed to Kante's absence from the Euro 2016 final as a decisive factor in that clash, which France lost 1-0 to Portugal on home soil after extra-time. 
"I always ask myself why Didier Deschamps denied himself Kante in the final of Euro 2016," he said. "I think that what he did that day was his biggest error as a manager, which all the respect I have for that great coach.
"With Kante, France would not have lost that final."