Johor Darul Ta'zim
JDT 3 Persija 0: 5 talking points - Diaz magic and the string known as Afiq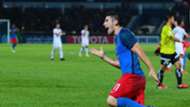 Johor Darul Ta'zim (JDT) kicked off their 2018 AFC Cup campaign in some style after a commanding 3-0 win over Persija Jakarta on Wednesday evening, a result which took them to the top of table in Group H.
Hazwan Bakri, Jorge Pereyra Diaz and Safawi Rasid all got on the scoresheet as JDT sounded out early warning signs that they intent to finish as group champions and clinch a place in the knock-out phase. The Indonesian side were left counting their chickens as JDT dominated all proceedings, something which is clearly backed by the match statistics. 
Farizal Marlias was given a relatively easy evening on his return to competitive football which Safiq Rahim was again the key orchestrator in the middle of the pitch. Yet, there are more intriguing matters being played out all over the pitch and Goal pick out five talking points.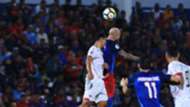 Heads, JDT win
It wasn't an aerial bombardment per se, but every time that JDT managed to put in a decent cross into the penalty box, they were putting Persija's defence in sixes and sevens. The Indonesian side just couldn't cope with the positioning and power of their opponent when it came to headers.
Luciano Figueroa won five out of the eight headers that he competed for and one in particular in the first half that forced Andritany Ardhiyasa to make a desperate save on his goal line. Fadhli Shas and Safawi also managed to win headers that threatened to add to the score.
Diaz the destroyer
For the first time in four matches since he returned to the club, Diaz is finally looking right at home given his performance against Persija. Constantly on the move, he was unstoppable on the ball and off the ball, was a complete nuisance to the opposition defenders with his quick pressing.
Marco Kabiay had the unenviable task of marking Diaz on the night and that proved to be a thankless task. It only took 11 minutes for Kabiay to be penalised with a yellow card and the worry of a second one kept looming large, which also aided Diaz in the increased space that he was getting after that.
The Argentine scored one and also assisted with the third goal, proving that when he's in the mood, there are no better player playing in Malaysia that can constantly keep opposition defenders on their back foot.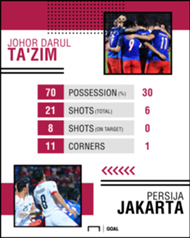 Fadhli maturing into a fine centre back
Now a permanent fixture in the team, Fadhli Shas is continuing on his good form that started towards the back end of last season. The left footer was paired with Hariss Harun this time around with the unavailability of Marcos Antonio with Adam Nor Azlin only on the bench.
Used to be error-strewn, Fadhli seemed to have finally matured in his decision making and his timing. Persija only had 30% of the ball possession which meant very little for JDT's defence to do but when called upon, Fadhli still came up trumps, as shown by his three interceptions completed.
On the ball, Fadhli is also becoming more assured with his passing. On the night, he was the third best passer in the JDT side, behind Safiq and Ignacio Insa with 59 out of 65 passes completed.
Figueroa tries but showing his age
A year out of the game, it looks like Figueroa is slowly trying to feel his way back into the game. As mentioned earlier, his aerial prowess remains one of the best in the business but that is clearly masking the other facets of the game which he's struggling with at the moment.
He's easily bundled over the ball and seemed to lack the strength to fend off defenders. His depreciating pace also meant that he doesn't, or rather can't make those runs behind the defence. There's something to be said about his reaction time as well, that spill from Ardhiyasa from an Insa shot was not immediately pounced on by Figueroa in the first half.
Perhaps it may take some time for Figueroa to finally get his power back. Speed is not something that a player can gain back in his advanced years through sheer training but the experienced Argentine could certainly do the necessary to at least improve on his back-to-goal hold-up play.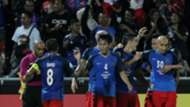 Afiq is the string that ties the midfield together
The base of the midfield is one that Hariss precides over but Afiq's cameo in this match should give Ulisses Morais some food for thought. The relatively younger Afiq displayed more dynamism in his play throughout the 87 minutes that he was on the pitch, compared to what Hariss has shown in earlier matches thus far.
The energy that Afiq brought to the team gelled perfectly with Insa and Safiq. The recirculation of the ball was moved at a much faster tempo, highlighted by the fact that Afiq himself rarely takes more than three touches on the ball before releasing it to his team mate. There hasn't been a match this season where the JDT midfield combined as seamlessly as it did against Persija.
Hariss' presence in the team this season will of course mean lesser game time than Afiq would have preferred after his breakthrough season last year but should he keep producing the goods when given a chance, it won't be long before he forces Morais' hands.