John Harkes
John Harkes issues statement following departure from FC Cincinnati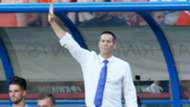 John Harkes has remained quiet since his abrupt dismissal as head coach of USL side FC Cincinnati on Friday, but finally decided to speak out about his sacking Sunday.
Harkes' departure from FC Cincinnati, first reported by Goal on Friday evening, came as a surprise to the team's player's and staff, with sources saying that a power struggle between the former U.S. national team captain and team president and general manager Jeff Berding. 
U.S. under-20s fall flat in loss to Panama
Cincinnati assistant coach Alan Koch was named the team's new head coach. Koch was hired by the club in December after having been the head coach of USL side Vancouver Whitecaps II.
On Sunday, Harkes sent the following statement to Goal and other outlets. 
"Although my time here was cut short prematurely, I am extremely proud of this team, the work I put in and all the accomplishments of the players and coaching staff of the inaugural season in the USL. To build something from scratch was special. From the time I signed my contract, a full eight months prior to the first match, the process of building a team, creating a relationship with the fans and the city, drawing on the passion of the city and its soccer community, and creating a major league soccer environment in a major league city was completely gratifying. 

I thank God for the life he has given me and all the blessings in it, especially my family and friends. Their unconditional sacrifice, love and support has been incredible. I would like to thank  Carl Lindner III and the entire Lindner family and the owners for believing in me and giving me this opportunity.  I want to recognize the inaugural group of players for taking a leap of faith and congratulate each one of you for creating a special atmosphere for the fans. To the players we worked so hard to bring in this year, I'm disappointed that I didn't have a chance to work with you but perhaps our paths will cross again. To the soldiers in the front office who worked tirelessly, thank you. And finally, to the incredible fans and supporter groups of FC Cincinnati - you are some of the most passionate and educated supporters that I have been around as a player and coach! Keep supporting and growing the game we all love.

In the words of the great coach John Wooden, 
"Success is peace of mind which is a direct result of self-satisfaction in knowing you did your best to become the best you are capable of becoming. Be more concerned with your character than your reputation, because your character is what you really are, while your reputation is merely what others think you are."