Premier League
Joe Hart having the last laugh as Bravo & Caballero falter, says Seaman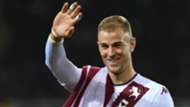 David Seaman thinks it is clear that Joe Hart is better than both Claudio Bravo and Willy Caballero after England's number one goalkeeper was ditched in the summer. 
Guardiola signed £15.4 million Bravo from Barcelona shortly after arriving at the Etihad, with Hart moving out on loan to Torino after being relegated in the pecking order.
But the Chilean has struggled in his first Premier League season, forcing Caballero into action for the Citizens.
Seaman played 75 times for his country and 19 times for Man City meaning that he has been watching the Man City goalkeeping situation. He thinks that that Hart is having the last laugh as he performs well in Serie A.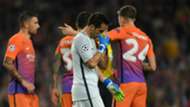 "I must say I'm having a little chuckle [at City's goalkeeper situation]," Seaman said when asked to comment at the London Football Awards. "When you see what Joe's capable of and what's going on there at the moment, it's a shame. The decision was made and that's it.
"I'm glad that Joe is playing high-quality football and then when he comes back with England, he still performs like we know he can do. I know Joe is a good goalkeeper. I've always rated him very highly - not just because of what he does on the pitch, but because of the way he reacts to setbacks.
"He's had a few and he didn't have the best Euros, but he's reacted properly from it. He's still performing and when you look at the guys who are replacing him [at City], they're nowhere near as good."
"Joe is winning anyway, because he's still playing high-level football. He's still performing to great levels and then coming back, playing for England and showing what he can do. For me, his levels haven't dropped."