Ghana
I've got experience to become Caf vice president, says Nyantakyi
12:25 AM GMT+8
21/04/2017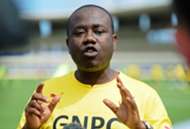 Ghana Football Association president Kwesi Nyantakyi has confirmed reports that there is a possibility for him to become Caf vice president under new president Ahmad Ahmad, who defeated Issa Hayatou last month.
Nyantakyi, 47, who is an executive committee member of Caf, was part of the campaign team for Ahmad and says he deserves to deputise him.
"It is said that there is no smoke without fire. Due to the calibre of people on the Caf exco, they have realised that I have the experience as one of the long serving members of African football, from the member associations, I deserve to be vice president of Caf," Nyantakyi told Graphic Sports.
"I thank all those who have that confidence in me and are wishing me well. We have had a lot of discussion on it among the stakeholders. The procedure is that the president will recommend the vice president to the exco for approval and that will be done at the next meeting.
"Indeed, I did not know what was in store for me [in the past that's why I didn't talk about it]. Now, I think I have taken my time to groom myself now that I know it is a path chosen for me by God. I think I'm ready and I have the time, expertise, experience and energy to play that role as Caf vice president.
Nyantakyi believes his appointment, if confirmed, will benefit Ghana in the long run not only him.
"I think it means Ghana has taken her rightful place in international football and is at the helm of football affairs. It is a recognition for Ghana and not me as a person, though it is my personal attributes that enhanced my chances, but my country and its pedigree as a strong football nation are important ingredients in my being considered for this privileged position," he added.
Nyantakyi is also a Fifa council member after winning a reelection last month in Addis Ababa, Ethiopia