Primera División
Ivan Codina - LaLiga wants to support and develop local leagues in South-East Asia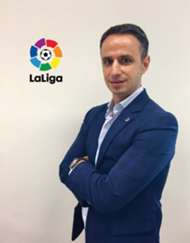 A markedly different approach and a commitment towards developing local football will help LaLiga gain traction in the South-East Asian markets, feels Ivan Codina, the Spanish top-flight division's director for South-East Asia, Australia, Japan and South Korea. 
LaLiga has been competing for the market share among millions of football fans in the region along with other top European leagues such as Premier League and Bundesliga. But Codina explains why the 'entertaining' package that is LaLiga does not consider the rival leagues as 'competition'. 
"Our approach is very different than any other league in the world. We see ourselves not just as a mere football league but we see ourselves as an entertainment," explains Codina while underlining the importance of understanding the demographics in the region. "Football, the way it is consumed and football fans are changing.
"Right now, people no longer just sit in front of a television or go to the stadium and watch football, you need to adjust and see how you compete for time and attention of people who are willing to consume entertainment.
"So, that is why we don't just compete with the likes of Premier League or Bundesliga. We compete with Netflix, the cinema theatres and any other source of entertainment that wants to attract the attention of people that is pretty much in the same demographics that we are targeting."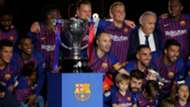 Codina says LaLiga are not planning to gain market share by proclaiming it is the best league in the world or is better than its competitors. Instead, it wants to establish an emotional connect with the fans in the region and helping the game prosper locally is seen as the first step. 
"Our approach is that we don't go into the markets, now that we are here in this part of the world (Southeast Asia), trying to say that we have the best league in the world and we have the best teams and the best players.
"Actually, we want to go into the markets and support and develop local football. We don't want to be the first league that is followed in any of these countries, we want to be the second. We want to support the domestic, local league to become the top league."
LaLiga has launched a couple of projects - LaLiga Global Network and LaLiga4Sports - which are seen as means to the proposed end.
Codina explains, "We want to see how we can engage with the local fans and how we can make sure that the following for LaLiga, the clubs and stories behind our clubs and players is relevant to them.
"We want to make sure that we speak the same language and able to generate relevant and engaging content. So, for that, we have a project that is called the LaLiga Global Network. We have 60 delegates that are sent across the world to the key markets that we think that we can have a very good opportunity to grow our brand. We have one person at least who is fully dedicated to understand the market and to get closer to the fans and engage with the different stakeholders and to bring us the necessary insights to develop unique strategies for that market."
"We just don't go out and try to target the traditional football fans. We try to target as many people that might be interested to understand more about LaLiga. Sometimes it will be through football, sometimes different sports. We have a project called LaLiga4Sports in which we subsidise most of the different national associations for sports in Spain," he explains. 
"For example, in relevance to India, Carolina Marin, the ace badminton player is our ambassador. In this way, we have a great ambassador in India to talk about LaLiga but also to reach to them. She was also in Singapore for the launch. We have done events in Indonesia, Malaysia and all the other relevant badminton markets. So, our USP is that we are just not a traditional football league, we are a league that really wants to target people who find relevance to the entertainment that want to consume." 
Apart from the emphasis on technique and skill rather than physical gameplay, LaLiga wants to stand out among fans for various other emotional reasons. One way to do this is to find key influencers in each market, according to Codina. LaLiga have already roped in Bollywood personalities in India to come and watch games in Spain while in South Korea, they have targeted K-Pop artists who have a huge fan following. 
"If we take this out of just the football context, I think, in the end, you can see more examples of how LaLiga is trying to hit the emotional element if the fans. Last season, in Indonesia, we had this gentleman (Eman Sulaiman) who has a very unique background. He is someone who was born with partially missing legs. For us, it is an example of how we can provide a unique experience for him. To go to Spain, to watch a LaLiga match and at the same time through him be able to share what is the meaning of the unique experience of LaLiga in first person, to be able to share in the local language in his own perspective with his fellow Indonesians, in a market that is really important for us," Codina said.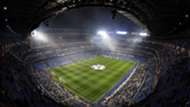 "Let us not forget that it is very hard for people to go to Spain and to experience LaLiga in the first person so it is very important to find ways to get people to understand what is LaLiga and what is the whole experience behind going to a football match, going to a club and the history of it and its city.
"But not everybody has this opportunity. For us, if we want to grow our brand and the brands of our team then we need to find the best way to communicate this in each of the markets. So we always look out for opportunities like this. For South Korea, we work a lot with K-Pop artists, some of them have more than 10 million followers. It's like a Bollywood phenomenon in India. If you get some of these guys, the influencers to get to share from their own perspective, it helps to share with the rest of the fans in a particular market."
The Spaniard then goes on to elaborate how LaLiga Genuine, a league for physically-challenged people, and LaLiga Iberdrola, which is the women's league, are also helping the fans connect with a more 'inclusive;' LaLiga. 
"Another thing that is very unique as well is in LaLiga we have launched last year the first edition of LaLiga Genuine. It's a league for physically challenged people and we had the commitment of more than 20 of our 42 clubs. We were the first league in the world to do that and it was a huge success with a huge impact not just in Spain but outside as well. Again, it shows you an investment from LaLiga which is not just economic but logistics, human effort and everybody we have shared the story with have shown interest to find out more.
"We also try to find opportunities through LaLiga Foundation to explore this area and do some activities with LaLiga Genuine across the world. It is a different approach. It is not a typical approach of any league and we work with LaLiga Iberdrola, which is the women's league. That's how we try to be more inclusive. We want to reach to the bigger audience, not just to focus on traditional football fans."