Indian Super League
ISL 2018-19: Sergio Lobera - FC Goa is built to be offensive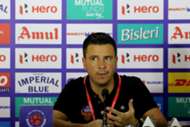 FC Goa begin their quest for the maiden Indian Super League (ISL) title on Monday as they take on NorthEast United in their season opener.
Goa were unbeaten in all the friendly matches they played during pre-season and are raring to get started.
Head coach Sergio Lobera said, "We are very happy with work we managed to do in pre-season. I think we managed to incorporate the new players very well who have adapted to our style. We had the opportunity to train at La Manga in Murcia for 24 days which is one of the best facilities. The feeling in the team is very positive and we are thinking about the game tomorrow."
One of Goa's most important players from last season, Manuel Lanzarote left the club after he had a fallout with the coach.
Lobera refused to delve into the topic, "I am not going to speak about Manuel Lanzarote because he is not in my team. I am only going to speak about my players and I am happy with what I have in my team."
Goa were the best attacking side last season as they scored 42 goals at the league stage. Their defence, on the other hand, was not up to the desired standards which hampered their dream of winning the title.
On improving the defence, Lobera opined, "It is the coach's job to try and improve as many things as he can within his team. We will definitely work on our defence this season. It is true that in order to improve on the defensive part of the team we have to limit our attacking abilities slightly. But having the team we had last season we broke so many scoring records. We have a team which is built to be offensive. I always prefer to win a match 5-2 than 1-0."
The Gaurs failed to register a ]win against NorthEast United last season. They suffered a 2-1 defeat at Guwahati and managed a 2-2 draw home.
"Every year, every team we face are different so I don't think we are worried about what happened last season. I have a lot of respect for them, the team has been constructed newly and they have a lot of expectations for the fans and the club. So I expect a tough much tomorrow. The results of last year have nothing to do with this year."
Two FC Goa players Edu Bedia and Brandon Fernandes will miss the opening match as they are serving a suspension they received during the Super Cup last season.
"In reality, I am a little sad because we have two players who were suspended after the Super Cup last season. That's not something I like. It was something evitable and it's a shame that the players will be unavailable."