Pune City v Bengaluru
ISL 2018-19: Miguel Portugal - Pune City know how to win against Bengaluru FC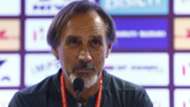 FC Pune City had a disappointing start to the season as managing just one point from two matches.
Up next, they host heavyweights Bengaluru FC on Monday with the motive of registering their first win in the 2018-19 Indian Super League (ISL).
Head coach Miguel Angel Portugal stressed on converting chances as his men have been misfiring in the attacking third scoring only once in 180 minutes. 
"I am happy because the team started very well (against Mumbai City). But one mistake cost us the game. That is the problem. We also had chances to score but we could not take it. But that is in the past and tomorrow (Monday) we look forward to taking on Bengaluru. 
"We managed to have possession and also managed to put in good crosses. But we need to score. If you don't score you don't win. It is very important to score first in this competition. And 90 per cent of the time, you win the match," said the Spaniard.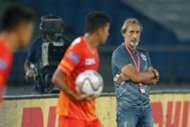 "If you look at the statistics you will agree that the team who scores first wins of the match ninety per cent of the time. Because then it becomes very difficult for the team who has conceded to come back into the match. When you start the match you have a plan, but when you concede you have to change the plan," elaborated Portugal. 
He rated Bengaluru FC very highly and went on to term them as 'the best'.
"I think Bengaluru is the best team in India. They are playing two seasons with the same players. They have changed only two-three players. That is very important. Roca (Albert Roca) is out but Cuadrat (Carles Cuadrat) follows the same (philosophy). It is important to follow a continuous philosophy. But we are preparing the match very well. We know the strengths and weaknesses very well. We have our ideas and we know how to pick up a win."
The former Delhi Dynamos coach also informed that Marko Stankovic along with Gabriel Fernandes and Abhishek Halder will remain on the sidelines due to injuries. 
Portugal seemed displeased with the fact that some of his players joined late during pre-season as they were with the India U23 squad. 
"The handicap for us is that three-four players were with the Indian national team. We had only 15 days to train together. But step-by-step we are building a good team," concluded the former Real Madrid B manager.