Indian Super League
ISL 2018-19: Eelco Schattorie - Chennaiyin FC are like a cornered dog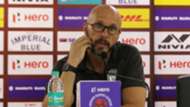 NorthEast United FC will be looking to maintain their good start to the Indian Super League (ISL) season when they rub shoulders with defending champions Chennaiyin FC on Thursday.
For head coach Eelco Schattorie, the humidity in Chennai will be the biggest challenge facing his side.
"It is always difficult (after a break). The biggest challenge is to adapt to the humidity in Chennai. It was really hot when we trained in the morning. Evening seems to be better. But there needs to be adaptation," Schattorie stated.
Chennaiyin's defence of their title has started in dismal fashion with John Gregory's men handed defeats by Bengaluru FC and FC Goa in their two clashes so far.
Wary of the opponents' poor start, Schattorie stated, "Chennaiyin lost two games. They are like a cornered dog. You never how they will react. They might attack back or they might be more scared. Only think I can do is focus on our team. "
"Our spirit and team dynamics are good. We will see how our days of rest have worked out."
When asked what weaknesses he saw in the Chennaiyin outfit, Schattorie replied, "I'm not going to tell you the weakness I saw. They have a few good individual players that can make a difference. If they have good day, it will be difficult for us."
"We need to be prepared and be organised like we did against Goa. We focused on being organised in pre-season. We can compete with any ISL team but Chennai has more individual quality than us. They have a few weaknesses and hopefully, we can exploit that."
Having earned a draw against FC Goa and a win over ATK so far, the NorthEast United coach believes defensive organisation will be key to his side's campaign.
"If you had asked me who i didn't want to play at the start, I would have named the two teams we played. The pre-season we faced a lot of objections and we didn't play top games. And we got two good teams and we got four points. Defensive organisation can take you a long way," the Dutchman explained.
Schattorie heaped special praise for Nigerian forward Bartholomew Ogbeche who has managed to bag one goal in two appearances so far.
"I'm impressed with Ogbeche's personality. He was playing in the highest division in Holland and he has come to India. He has been dealing with it really well and that is why he is the captain. He is more like an extension of me on the field. Of course he will want to score more goals. Overall, that depends on other players as well," the NorthEast United coach said.
The Highlanders have been perennial underachievers in the ISL having failed to qualify for the playoffs on all four past editions and Schattorie believes it will take time for his young side to achieve consistency.
"I'm not a positive or negative person. I'm a realistic person. I evaluate on what I see and try to improve. What happened to NorthEast in the past is done. You analyse it and see where you can improve. We have a positive atmosphere in the team," said Schattorie.
"There are still issues in our team in terms of organisation and I think that is down to Indian football. On the field, I do my best to get everybody motivated. We have young players. It will take time for them achieve consistency," he continued.
The visitors will have to make do without the services of Keegan Pereira, Simranjit Singh and Kivi Zhimomi on Thursday due to various injuries.