Odisha v Jamshedpur
ISL 2018-19: Josep Gombau - Delhi Dynamos need to improve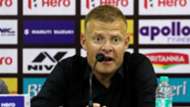 Delhi Dynamos are yet o register their first win of the season as they face Jamshedpur FC in an Indian Super League (ISL) tie on Sunday.
The Lions, currently with three points from six games, suffered their third defeat of the campaign when they went down 2-0 against NorthEast United in their last match.
India international Pritam Kotal has come in for criticism for being at fault for both goals but the Delhi coach Josep Gombau had his back.
"This is football and we need to accept and work. The boys are working hard. Pritam is playing a lot of games in a short time. In the last month he played seven games, which is a lot for a professional player," said Gombau.
"Sometimes when you are tired, these types of mistakes happen. He (Kotal) started to play a marathon of games after coming back from the India game against China (on October 10). Mistakes happen in football and we need to adjust and make sure we don't make mistakes again."
Set to play their sixth game in 19 days, the former Australia assistant added, "If I make changes, it's not more for the result. We are playing a lot of games. We are playing again on Thursday in Goa. Probably we will bring in some new additions to the team.
"I am satisfied with the players but there are a lot of difficulties with injuries among these many games. Today is the first time after three months I have all the players available in training."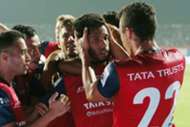 It seems like a herculean task to face Jamshedpur FC who last defeated FC Goa 4-1 but Gombau hopes to see his side pick up three points on Sunday.
"I saw the game on TV. They (Jamshedpur) were fantastic and they played a very good side (Goa). They played good football from the very beginning. Every game is different. Hope tomorrow (Sunday) we can play well and beat them," he mentioned.
"We need to fight and try to be in the top four. We have a six-point gap, which is two games (wins). So we need to look forward and work hard," the Delhi tactician continued to speak on his team's susceptibility of conceding late goals and from counter-attacks.
"We need to improve. In the last game (against NorthEast United), the goals came from our mistakes. In the first goal, it was a clearance facing our goal which is a big mistake which maybe kids who are playing youth football can do but not professional players. The second goal was another mistake in which we made a back pass. We need to have better control. In the end, this game was decided by mistakes.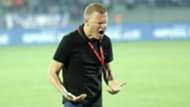 "Against Pune (FC Pune City), ATK and NorthEast, we conceded in the last moments of the game. I don't see this as a physical aspect but more of a mental aspect. We need to be mentally strong to avoid this and to think that the game is 90 minutes long, not 80.
"Tomorrow (Sunday) can be the day that they (Jamshedpur) lose their first game and we get our first win," Gombau quipped.