Indian Super League
ISL 2018-19: Cesar Ferrando - I am happy with Sumeet Passi's work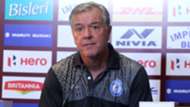 Jamshedpur FC began their second season in the Indian Super League (ISL) on a winning note as they beat Mumbai City FC 2-0 in Mumbai on Tuesday.
Mario Arques and Pablo Morgado found the back of the net to seal three points for Cesar Ferrando's side.
Analysing his team's performance. the Spanish coach said, "We played well in the first hour of the match. Then Mumbai played well too after 60 minutes. They are a good team. We made changes in the second half. Overall I am very happy with the result."
After dominating the first half, Jamshedpur were forced to track back a little as Mumbai attacked in numbers in the second half.
But Ferrando refused to believe that his team played defensive football at any point in the match. He said, "We didn't play defensive football. Mumbai pushed us a lot in the second half so we had to draw back and defend at that time. I am very happy with my goalkeeper's (Subhasish Roy Chowdhury) performance."
He continued, "The difference between the two halves was that my players became tired in the second half. We made some changes. Mumbai are also a good team and they played well in the second half. No team in the world can always attack. You have to defend as well."
Praising Jamshedpur skipper Tiri's performance, the coach said, "Tiri is the captain of the club. He is very important for us. He performed really well tonight."
Indian players Raju Gaikwad and Sumeet Passi did not have the best of outings against the Islanders but the coach showed his support for the players.
He said, "They (Raju Gaikwad and Sumeet Passi) played very well according to me. I have the best players in the world. They are in my team and I have to defend my players, always."
When asked if it was a little more satisfying that the team won without star player Tim Cahill, the former Atletico Madrid coach opined, " (Tim) Cahill is very important for us. I hope he can play in the next match but I am very happy with Passi's work. He could have scored one goal. He worked for the team."