Indian Super League
ISL 2017: Delhi Dynamos' Kalu Uche - 'I am not here to joke, I am here to take the trophy home'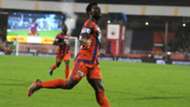 The veteran Nigerian striker Kalu Uche has once again come to India to ply his trade and this time for ISL side Delhi Dynamos. After failing to lift silverware with FC Pune City in 2015, this time he is leaving no stone unturned to win this tournament.
" I am not here to joke or to just play and go, I am here to take the trophy home. For that I have been working for the past six weeks," said a confident Uche.
Dynamos let go of strikers Marcelinho Dias and Kean Lewis and instead roped in Uche to maintain the firepower up front. Uche has been named as captain and will be their target-man but he says that he is ready to deliver and there is no extra pressure.
"I know how important I am, for the team. I don't feel any pressure. I am here to give my best for the team. For that I have been working for the past six weeks."
He admitted that having Miguel Portugal as the manager has made things easy for him, as both of them are christened in the Spanish football philosophy.
"Yes, it is very easy to understand each other. We have the same footballing philosophy as we have been in the same league for a long time. Whatever methods he is implementing in the practice sessions I am getting it very easily, because we both come from the same land."
Although he has experience playing in India and therefore aware about the conditions, Uche acknowledges that this ia a new team and they are working hard in training to tune into the same frequency.
"This is a completely new team. I have been working for the past six weeks with my team mates to understand each other and so far so good."
Uche feels that this league is very competitive and no team is stronger than the other. 
"It is gonna be the same. If you are playing against Mumbai or Pune, it will be evenly matched. They have also come here to win, and all the ten teams will be playing good football."
Delhi Dynamos will play their first match away against FC Pune City on November 22, 2017.