Indian Super League
ISL 2017: ATK sign former Tottenham Hotspur striker Robbie Keane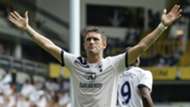 Indian Super League champions ATK have secured the services of former Tottenham Hotspur striker Robbie Keane.
The former Irish international was reported to be in advanced talks with the Kolkata-based franchise as they looked to bolster their attacking options ahead of the upcoming season. 
Atletico de Kolkata have already appointed Teddy Sheringham, who has incidentally played alongside Keane at Tottenham during the 2002-03 season, as their head coach which could have helped the negotiations positively. 
Speaking about the move, Keane said, "I feel extremely fortunate to have played for some of the best clubs in England and the USA, as well as representing my country at several major tournaments. At this stage of my career, the offer to experience a new league and culture in Asia appealed to me. To join the current Indian Super League champions is a great pleasure and through hard work, I hope to bring the ATK fans more success and enjoyment over the course of the 2017/2018 season."
ISL: DELHI DYNAMOS FC SIGN STRIKER JUAN LEANDRO VOGLIOTTI
Former teammate and current coach of ATK Teddy Sheringham also spoke positively about the move. "His enthralling skills with the ball and willingness to take on the opposition without inhibition is an asset for any team. I am sure ATK's striking abilities will be bolstered with Robbie in the side. I am sure the young Indian players we have selected from the domestic draft will learn from him about the way he goes about preparing for a major tournament like ISL."
The 37-year-old has had an impressive career as a striker in the Premier League, having scored 126 goals in England's top flight for the likes of Coventry City, Leeds United, Wolves and Liverpool in addition to Tottenham. 
He has also played for Inter Milan during his early years. He moved to USA's Major League Soccer (MLS) in 2011 where he enjoyed a spectacular 5-year spell with LA Galaxy where he had a phenomenal goalscoring record. 
He has been an exemplary servant for the Irish national team as well, scoring 68 goals in 146 appearances, spread over 18 years.
Keane's pedigree as a striker is unquestionable and the defending champions ATK might have secured a potentially game-changing signing.