Indian Super League
ISL 2017: Teddy Sheringham delighted with Robbie Keane impact in first home win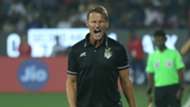 ATK registered their first home win of the 2017-18 edition of the Indian Super League (ISL) after downing Delhi Dynamos 1-0 on Saturday but coach Teddy Sheringham stated that he was delighted rather than relieved at the post-match press conference.
"I wouldn't describe it as a relief. I am delighted for both Robbie and the fact that we won at home. We had to work hard for the win as Delhi were a good side, a quality opposition that was tough to break down," the Englishman stated.
Asked if the win could be the platform for turning the Salt Lake stadium into a fortress for his side, the former Manchester United and Tottenham striker said it was very much possible.
"Who knows? Anyone can beat anyone in this ISL. There are a lot of mistakes all around. We have to hope that the opposition makes more than you do," Sheringham remarked.
The Englishman was delighted with the display of new signing Ryan Taylor and expressed confidence in the former Premier League man's abilities.
"Taylor been very good. To lose Carl Baker was a blow but he's (taylor) got great quality that he has shown in the Premier League and now here," said the ATK boss.
The tactician revealed that the players and staff will enjoy a mini-breather during Christmas before getting back to work in earnest for the clash with FC Goa.
"We have a mini break. We will be back to work after Christmas as we have a big game with Goa," Sheringham said before signing off.