Indian Super League
ISL 2017-18: FC Pune City's Vladica Grujic - We know what to do to win against Bengaluru FC
10:11 PM GMT+8
10/03/2018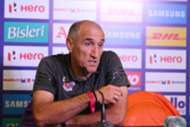 FC Pune City face Bengaluru FC in the second leg of the play-offs at the Kanteerava Stadium, Bengaluru on Sunday. They played out a 0-0 draw in Pune on March 7th in the first leg.
The first leg encounter saw both the sides taking a safety-first approach with the focus being on not to concede. However, the second leg promises to be an exciting clash as the winner will reach the final of Indian Super League (ISL) 2017-18 season.
Speaking ahead of this titanic clash, FC Pune City assistant coach Vladica Grujic said, "The first game was very tough for both sides. Tomorrow (Sunday) we have a very important game. We have come here to win this game. We don't have another option. We got to win this game."
He continued, "Our team knows what to do. We know what our strong points are and we know what to do to win this game. Every player is thinking about the final. Every player is ready to give everything. We want to win."
Bengaluru FC have been brilliant at home this season and Grujic was asked if his team were under any pressure coming into the game.
"We managed a draw in our previous game but tomorrow is a new game and our players know this. They are not thinking about our last game. Tomorrow can be a completely different game. We know what to do on the pitch. We know our strong points and we also know how strong Bengaluru are. We want to do our things and we want to give our hundred percent. This is the last four stage and we know that every team is strong here. But we also know our strengths. Tomorrow we want to show how strong we are."
Grujic confirmed that they do not have any injury concerns and all the players are fit to play. "We don't have any injury problems. Every player is available to play."
On asked if the away goal rule will play a crucial role in the match, he said, "We want to win this game and for that we must score goals. We know how Bengaluru are. They are the best team as they were at the top of the table."