Indian Super League
ISL 2017-18: Shoddy foreign referee denies Delhi Dynamos a win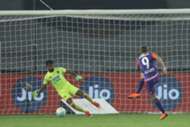 The standard of refereeing in the ongoing edition of the Indian Super League (ISL) has come under the scanner with plenty of contentious decisions being made by the officials. 
The lack of consistency in these decisions has also come under fire, with the Indian officials copping plenty of stick. However, on Friday night, it was a foreign official who grabbed the limelight for all the wrong reasons. 
Matthew Conger, a FIFA listed referee since 2013, was supposed to address all these problems but his performance in the 2-2 draw between Delhi Dynamos and FC Pune City left much to be desired. 
The performance by Conger and team was so shoddy that it made one wonder if the Indian referees were better.
In fact, it was not just his decisions but also his attitude that came under fire. Pune City coach Ranko Popovic, despite benefitting from several incorrect calls, hit out at Conger after the game for his demeanour towards the Pune staff. 
"For the official, you must first have a little culture and respect. You cannot just point your finger at someone who is old enough to be your father. He must know what is protest and what is a reaction. He must have a little education," Popovic lashed out at the 39-year-old referee. 
A sign of things to come came as early as in the 10th minute when Ashique Kuruniyan was penalised for an innocuous challenge on Lallianzuala Chhangte inside the box. While Kalu Uche helped himself to a penalty, the Delhi Dynamos players would have been as bemused at having received the penalty as the opposition. 
However, one has to argue that Conger showed he is consistent by gifting FC Pune City a penalty at the other end. Simranjit Singh was deemed to have held back Rafa Lopez during a corner. Judging by that call, every corner would have resulted in a penalty.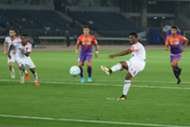 Conger then went to new levels of delusion by cancelling out a brilliant strike by Manuel Arana after it was bafflingly deemed that Uche's chest down for the striker was a handball! 
Delhi Dynamos have been on a good run of late after the arrival of Arana, with the team possessing some balance. Nandhakumar was also a livewire down the right and the youngster capitalised on a slip by Lopez to assist Uche for his 13th goal of the season. 
It looked as if Delhi had done enough to win the game and end a miserable season on a high but Conger was not done yet. He awarded yet another penalty for Pune City after Simranjeet and Sajid Dhot tried to close him down, another contentious call. The 'foul' was made outside the box. At least this decision wasn't as blatant as the penalties he awarded in the first half. 
The refereeing team was also below-par, with Emiliano Alfaro allowed to come into the field without shin pads and play for quite some time before it was spotted. 
Delhi will feel aggrieved at having been denied a win on the night but one is left wondering why the referees do not face retrospective action for being utterly poor in games. 
If managers and teams are handed out fines and bans for criticising referees or indiscipline on the field, why spare the referees? Especially, if they turn in shoddy performances which could affect a team's chances in a tournament unfairly!