Indian Super League
ISL 2017-18: Poor recruitment policy to the forefront as teams chop and change
Ashwin Muralidharan (@AshwinMNair10)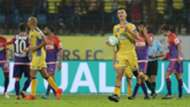 One of the most important changes to this season's Indian Super League (ISL) was the introduction of the winter transfer window, with the league extending to a ten-team, four-months long affair. 
What it meant was that teams had a chance to reinforce their squads midway through the season which would especially allow them to try and rectify a lacklustre start to the season (in case). 
However, over the course of January, what we have seen is that the majority of the teams in the league have made extensive use of the winter transfer window, which is open from January 15th to February 15th in India. The teams could also sign players from January 2nd if the player in question was a free agent before August 31st, 2017. 
Apart from Bengaluru FC, Mumbai City FC and Chennaiyin FC, who are all relatively well-placed in the ISL table, others have all chopped and changed their foreign contingent which obviously puts a question mark on their recruitment before the season began. 
Take the case of Kerala Blasters for example. One of the problems highlighted in their squad even before the season began was that they had no proper foreign midfield player, with their Indian options all a bit too soft. So much so that former coach Rene Meulensteen even resorted to playing marquee signing Dimitar Berbatov in a holding role and that rightly showed in their performances.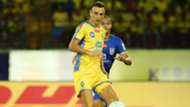 The Men in Yellow won just the one game in eight matches before the advent of January which is when they finally managed to sign Ugandan midfielder Keziron Kizito. The 20-year-old shined in their following two wins in January. Kizito, however, suffered an injury and is reportedly out for the season. They have let go of Dutch striker Mark Sifneos and are on the lookout for new signings to save their season. 
FC Goa, who have been playing an attacking brand of football this season, are also making changes to their squad with Adrian Colunga being shown the door and oddly, Mark Sifneos is thought to be taking his place. Which is something which puts a question mark on Kerala Blasters' decision to end their association with Sifneos. 
FC Pune City who look primed to reach the playoffs this year brought on board Manuel Jesus Ortiz Toribio and Marko Stankovic for Damir Grgic and Robertino Pugliara despite the team doing well in the league. But Grgic and Pugliara have rarely featured this season and coach Ranko Popovic, who came in after Antonio Habas was sacked just before the season started, opted to make use of the winter transfer window and bring in players of his choice. 
Jamshedpur FC couldn't seal their preferred signings for their seventh and eighth foreign player slots. Izu Azuka came in as a last minute replacement before the season began. The last remaining slot was filled in January with Brazilian midfielder Wellington Priori who has already played in ISL for NorthEast United before and impressed Steve Coppell during pre-season in Thailand with Pattaya United. Coppell went for a defensive midfielder with Mehtab Hossain not at his 100% this season.  
ATK were hampered by injuries to their foreign stars, namely Carl Baker and Robbie Keane and were forced to bring in Ryan Taylor as a contingency plan. Keane is still recuperating from his injury and the team opted to bring in reinforcements in David Cotterill and Martin Paterson. They had to release the Finnish duo of Njazi Kuqi and Jussi Jaaskelainen.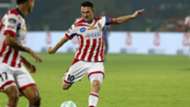 As far as NorthEast United are concerned, their foreign player recruitment has not gone to plan. The Highlanders' foreign contingent put in dismal performances, especially their strikers with only creative midfielder Marcinho showing any sort of quality. Now the team has had to bring in reinforcements in striker John Mosquera for Odair Fortes and Maic Sema for Luiz Paez. 
Delhi Dynamos is another outfit which has struggled this season. They were dealt a blow when first-choice goalkeeper Albino Gomes suffered an injury. With Arnab Das Sharma looking shaky between the posts and Sukhdev Patil also unfit, the Lions were forced to bring in Xabier Irureta, who incidentally, was also injured in a clash with Mark Sifneos during Delhi's loss to Kerala Blasters. 
Meanwhile, Bengaluru FC have not really utilised the winter transfer window apart from rejecting an enquiry from a Thai club for their midfielder Erik Paartalu. The same applies to Chennaiyin FC and Mumbai City FC who seem happy with their respective foreign contingents. The three teams were clear from the start of the season as to what sort of players they required and got them in. 
What also helped them in doing so was a clear plan right from the start with respect to the coaching team as well. John Gregory was brought in very early by Chennaiyin FC and was involved completely in their recruitment. Albert Roca and Alexandre Guimaraes are in their second seasons with Bengaluru FC and Mumbai City FC.  
The rest of the teams have had to restructure their plans with no stability in the coaching department, FC Goa and Delhi Dynamos being exceptions.
ISL clubs spend INR 40 Crores on an average per season and the revenue they generate is still not enough to cover the costs. Several clubs have not recruited intelligently and have wasted resources and finances. They have now been forced to compromise by being forced to pay severance packages and what not. 
While replacing injured players in understandable, one feels the clubs should be more intelligent about their recruitment so that they are not in a position where they have to chase off fit players and bring in replacements, thereby increasing their expenditure even more.