Indian Super League
ISL 2017-18: Lack of pressure evident as NorthEast United & Delhi Dynamos dish out snoozefest
NorthEast United and Delhi Dynamos - two struggling teams in the Indian Super League (ISL) this season - met on Wednesday and served up a boring affair which ended up with Delhi Dynamos nicking a 1-0 victory which will do their prospects of avoiding the wooden spoon a world of good. 
In Guwahati, it was as if the fans had anticipated the kind of fare they would be served and decided to skip it altogether. The Indira Gandhi Athletic stadium had a deserted look about it, in contrast to the bustling hub it normally is on matchdays. 
The quality on show on the night mirrored the season both teams have had so far. The passing was error-strewn and the attacking play was plain insipid at times. 
It was a case of familiar foes for NorthEast United as they failed to sparkle in the attacking third - something which has plagued them throughout the season.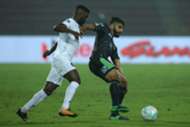 It is not to say that the Highlanders were brilliant at the back - they were far from it - but the attacking display was just shoddy. One effort at goal from Seimenlen Doungel in the first half told the story. 
After getting in behind a poorly-organised Delhi backline, the striker just passed the ball into the goalkeeper's hands when he had all the time and space in the world to pick his spot inside the net. 
At least, Delhi did try and nick a goal towards the end and succeeded with Kalu Uche heading home Ngaihte's cross. 
One has to wonder if the lack of pressure on both teams without any realistic hopes of reaching the playoffs led to such a display. Normally, the threat of relegation forces teams to up their game and show some fight as the season winds up.
But the ISL has no relegation threat and with nothing to play for, NorthEast United and Delhi Dynamos just went through the motions. 
NorthEast United, especially, have been mired in mediocrity for the entire history of the ISL now. The team boasts some of the most passionate fans who turn up despite average performances. At least, they were in the hunt for a playoff spot until the final matchday last year. This time around, the standards have slipped even further and they look set to be the only ISL franchise never to have entered the playoffs. 
With no improvements in sight, the fans might have had enough, as shown by the attendance figures in Guwahati. The NorthEast management have shown a severe lack of ambition with respect to the recruitment of players and staff. 
How else do you explain four seasons of mediocrity from a franchise claiming to represent one of India's footballing hotbeds?