Indian Super League
ISl 2017-18: The penalty was unjustified, says Chennaiyin coach John Gregory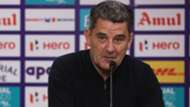 Chennaiyin FC managed a 1-1 draw against Delhi Dynamos FC in Delhi on Sunday. Kalu Uche converted a penalty to give the home side the lead but Chennaiyin FC skipper Mailson Alves netted a late equaliser to salvage a point for his side.
It was a crucial away point for the Marina Machans who are currently standing at the fourth position in the league and are very much in the race to finish among the top four teams.
Delhi won the penalty in the 58th minute of the game when Raphael Augusto pushed Matias Mirabaje from behind. Speaking on the penalty decision, the coach said, "It was a harsh decision. The officials give penalties very quickly I have noticed. It is not a criticism, it is the truth.
"You have to be a 100 per cent sure when you are giving a penalty decision as it alters the outcome of the game. At this stage of the season with only a few games remaining, it was a crucial penalty given against us. I thought it was unjustified. We dominated the game for a long period. Players worked well, they passed the ball very well. There were a few chances that we could have done better. Got to give a lot of credit to Delhi. These boys are really playing well. They got unlucky in few of the games this season."
When asked if his team had lost two points against a lowly-placed Delhi side, Gregory said, "No I don't think that. We were losing the game, we were 1-0 behind and we managed to throw ourselves back in the game. Our hardest games have been against teams who are in the bottom half of the league table.
"There are no easy games in this league. At the end of the 95th minute, I was happy that we got something. Need to keep our momentum going. We have a game in hand. It's all in our hands. We can dictate whatever happens to our season from here on. I am still a very happy man."
After a brilliant start to their season, Chennaiyin's performance graph has slowly gone down. At one point of time, they were at the summit but as the league progressed they dropped to the fourth position in the league table. They have managed to win just one out of their last four matches.
On asked if his team can still make it to the play-offs, the former Aston Villa manager suggested, "We have put ourselves in this position by playing well from the beginning of this season. We had some amazing victories on the road. We won at Bengaluru, Pune and Jamshedpur. We got some terrific victories.
"The situation we are at the moment we can qualify if we win our remaining fixtures. It's still in our hands. First 45 minutes we were poor but managed to come back from there. Our current form is definitely not as good as it was earlier in the season but we still have got a great chance."
The Chennaiyin gaffer refused to believe that his team's performances are getting edgy. "It's not looking edgy at all. Tonight we played two attacking midfield players; we played two wingers and forward. We had five players going forward always looking to score goals. We made a couple of substitutions bringing Mohammed Rafi. We tried to win the game tonight. We are still positive. Defensively we didn't have much to do," said Gregory.