Indian Super League
ISL 2017-18: Delhi Dynamos' sorry defence leaves them exposed yet again
11:32 AM GMT+8
28/01/2018
Amongst all the participating teams in the Indian Super League (ISL) this season, Delhi Dynamos would definitely be in the top two with regards to the time spent for pre-season training. The idea of pre-season is to ensure that the basics are cleared, fitness is achieved and a basic tactical plan or style of play is established.
While Delhi Dynamos have impressed in attack when they move forward, not always have they been able to apply the finishing touch. As mentioned earlier, the only recognized striker in the team is a certain Kalu Uche. Guyon Fernandez looks more a winger than a number nine. David Ngaihte has impressed in his short stint on the field but he has been deployed as a winger at his earlier clubs.
However, it's their defence which has time and again let them down. Coach Miguel Portugal mentioned that his side cannot deal with aerial balls especially from set-pieces. The point is that defending from set-pieces should have been sorted during the pre-season as it is one of the basics. To openly suggest that his team struggle to defend when the ball 'is in the air' makes no sense at all.
Yes, they do not have the best personnel in defence. But that should have dawned upon Portugal during the pre-season and not after 12 matches.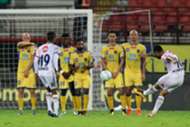 They suffered a 2-1 defeat to Kerala Blasters after having taken the lead. The first goal was from a set-piece when Deepender Singh Negi got a touch which was deflected into the net by an experienced Paulinho Dias. That the own goal was assigned to the youngster is a different story altogether.
Pratik Chowdhary, who was up against his former side, conceded a penalty with a challenge on Negi and later picked up his second booking of the game in the injury time.
The same happened in their reverse fixture where Iain Hume scored a hat-trick. After Delhi dominated the proceedings and should have scored at least three or four goals themselves, Hume scored two fantastic goals with Arnab Das Sharma and Rowilson Rodrigues alongside Edu Moya being at fault.
The ISL semi-finalists from last two seasons need to introspect as to what has gone wrong for them. Why did they spend the least among all the ISL teams? Why didn't they buy quality foreign players? Who decided to buy these foreign players – was it the coach or their partnership with Aspire Academy? A lot of these tough questions must be asked at this stage of the season so that they avoid the same next year.
Yes, there have been some positives in Nandha Kumar, Lallianzuala Chhangte and to an extent Vinit Rai but the rest of the contingent needs an upgrade. You cannot pay peanuts and expect to win the title. It only happens once in 100 years.