Indian Super League
ISL 2017-18: John Gregory on Chennaiyin's playoff clash - I've got a big problem to select a team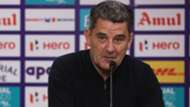 Chennaiyin FC sealed the second spot in the Indian Super League (ISL) with a 1-0 victory over Mumbai City FC in the final league-stage tie on Saturday.
Chennaiyin coach John Gregory made as many as eight changes for the clash and the Englishman explained why in the post-match press conference.
"We played five games in February and it was a huge workload on the players. I don't tend to change my team very much and we had five games in 17 days and those games got us into the playoffs," he said.
He said that Delhi Dynamos' 5-1 victory over Saturday's opposition to seal a playoff berth for Chennaiyin had played its part in his thinking.
"Obviously, Delhi Dynamos did us a favour. It was an incredible effort by the players. The energy levels, training, preparation and pressure on them was huge. It was a huge ask. I was able to rest them today after Delhi did us a favour. I owed it to them to give them a breather. We monitor their bodies and everything always. We know what condition our players are in. When we had the opportunity to rest them, we did that," Gregory explained.
Gregory pointed the difference between the two sides on Saturday, saying: "We live and breathe together and that showed today. No way Mumbai were going to score today."
The head coach admitted that the performance of his players in the 1-0 win had given him a big selection headache ahead of the crucial play-off.
"I've got a big problem to select a team. It was an incredible performance by everyone today. Even Sanjay Balmuchu who came on at the end never put a foot wrong. I just know that whatever team we decide to start with, they are all ready to go in. They all know what to do. The fact that we managed a clean-sheet was great," he stated.
Dhanachandra Singh was given the captain's armband on Saturday after Jaime Gavilan was substituted and Gregory could not have been more proud of the defender.
"I was quite happy to see Dhanachandra with the captain's armband. He has been here from day one and I was really delighted for him. He stood head and shoulders above everybody in the back-four and special mention to him," the Englishman said.
Chennaiyin's opponents for the playoffs will be decided after the final ISL clash between Jamshedpur FC and FC Goa and Gregory was unwilling to pick a favourite.
"I'm going to be watching Jamshedpur vs Goa. Whatever happens will happen I suppose. I can't affect it. It really is a fascinating game and there is a contrast of styles but I wouldn't be able to separate them," he stated before signing off.