Indian Super League
ISL 2017-18: ATK's Robbie Keane on player-cum-coach role - I don't have a magic wand
12:41 AM GMT+8
04/03/2018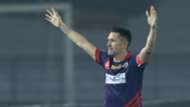 ATK's Robbie Keane will turn up as player-cum-coach on Sunday when the Kolkata side takes on NorthEast United FC in their final encounter of the ongoing Indian Super League (ISL).
The Irish striker was appointed to his new role for the final game following the resignation of interim head coach Ashley Westwood on Saturday.
The former Tottenham and Liverpool striker underlined his preparation for the role ahead of the tie against Avram Grant's men.
"My focus has been solely on the team, organizing the team for this game tomorrow. My concentration has been for the last two games to get the players ready for the game tomorrow as it is our last game and an important game for us as a team," he said at the pre-match press conference in Kolkata.
The star man showed no signs of nerves after taking on the huge role and feels his side are ready to perform on Sunday.
"I have been helping with the coaching sessions so I am very relaxed and very comfortable in this position and I think because of the two days that we had, I think everybody now is ready to perform for the game," Keane stated.
The defending champions have endured a miserable season and find themselves second from bottom after having gone through two coaches.
The Irishman accepted the season had been a tough one for ATK but wanted to put the misery behind for the final league clash.
"There are times when things are going really well and sometimes when they're not going well. Obviously this year, it hasn't been a good season that happens in different circumstances. We are not to make any excuses whatsoever, as players we have to look out for ourselves and ask yourselves that are we doing the job in the best way we can? There were so many injuries and so many changes with the team but that's in the past for me and it's gone," he explained.
Keane did seek to downplay expectations for Sunday's clash saying he did not possess a magic fix.
"I don't have a magic wand that will change everything and it's very hard to do that in two days. We have two days and we have prepared hard the last few days as well as we could do and we look forward to the game tomorrow," he quipped before signing off.