Orlando Pirates
Irvin Khoza heaps praise on Orlando Pirates assistant coach Rhulani Mokwena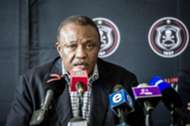 Orlando Pirates chairman Dr Irvin Khoza has hailed the impact of Rhulani Mokwena, who joined the club from Mamelodi Sundowns at the start of the campaign.
According to Khoza, Mokwena wanted to 'ease the pain of this sleeping giant, wipe my late grandfather's tears and allow him to continue resting in peace by responding to the call from a club that continues to live in him'. 
"For Rhulani, being here is emotional. His family tree has incredible history embedded in this club. He would like to create his own legacy because his grandfather, uncle (and father) are great icons of this team," Khoza told the media.
Mokwena bid farewell to Mamelodi Sundowns by penning a roving letter, detailing his decision to join the Sea Robbers which is deeply rooted in his family circles.
"When you talk about Pirates, you can't mess up with that surname. He is still maturing but the attitude is right because the man wants to learn all the time," Khoza said.
The Bucs supremo marvels at Mokwena's willingness to grow and throw himself in the deep end.
"The man has no time for niceties. He just wants to throw himself in the deep end, which is the attitude of a winner. If you do that and you aren't scared of failing, then you have a good chance of succeeding in life because you must be criticised for you to grow. He is prepared to be criticized," Khoza added.