Bayern München
'Irresistible' Renato Sanches finally shining again at Bayern after two years of football hell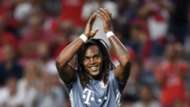 Just a few short months ago Renato Sanches was widely considered to be damaged goods. The former teenage hotshot and hero of Portugal's Euro 2016 win had seen his reputation sharply devalued, with the added black mark of a pitiful relegation campaign with Swansea against his name.
New Bayern Munich coach Niko Kovac had faith in the youngster, however. That faith is being repaid with glee by Sanches, who is taking a starring role in a Bayern team dreaming of regaining the Champions League title.
It was in the European competition that Sanches, still only 21, first laid down a marker under Kovac. He was a surprise inclusion from the start in the club's first Group E Game against Benfica, but he ensured he made the most of that opportunity.
The Lisbon giants were put to the sword in a 2-0 win, with the former Benfica wonderkid himself grabbing the headlines after scoring a fantastic strike against his compatriots and earning the grudging applause of the Estadio da Luz. Sanches started the move with a powerful charge from deep and he just kept going, eventually finding himself on the end of James Rodriguez's cross to finish with aplomb.
The goal was a vindication of the trust shown in him by Kovac, who made the decision upon assuming control to give each Bayern player a clean slate at the start of his tenure.
Just as Robert Lewandowski and Jerome Boateng were forgiven for making explicit their desire to leave the Allianz Arena over the summer, so too was Sanches handed a reprieve for his previous failings on the pitch. The dark memories of the last 24 months, floundering with Die Roten and steering Swansea down to the Championship with a string of mediocre showings, were suddenly banished.
It was as if the fresh-faced playmaker had been transported back through time to his first day at Bayern, nervously smiling with his European Championship medal safely stowed away and with everything to prove. And it is not just Kovac whom he has impressed; some of Bayern's notoriously hard to please legends are coming round to his talents.
"The Bavarians now have the Sanches that they wanted," enthused Lothar Matthaus to Bild. It represents a shift in opinion from the club idol and World Cup winner, who at the end of Sanches' debut season wrote the player off as a flop who "didn't deserve to play more."
"He will get games this season, which will help to keep building his self-confidence. Of course, he will have to keep in shape to play that way. It was the same for me.
"The way Sanches began and then scored the goal, it was similar to how I played. The commitment, dynamism, speed, participation, steadiness, he could have fallen twice en route to goal. But he wanted to get the goal he needed - he prevailed and received his reward.
"In that sense, he really reminded me of myself. I am overjoyed for him."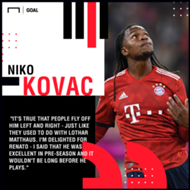 Kovac in turn has drawn similar parallels after seeing his gamble pay off. "It's true that people fly off him left and right - just like they used to do with Lothar Matthaus," the coach gushed after Renato's Benfica stunner.
"I'm delighted for Renato - I said yesterday that he was excellent in pre-season and it wouldn't be long before he plays."
None of which, of course, guarantees Sanches will be starting every game for the Bavarians. Competition is fierce in the Bayern midfield, even with Corentin Tolisso's unfortunate long-term injury, with the likes of James, Javi Martinez, Thiago and young Germany pair Leon Goretzka and Serge Gnabry all fighting for precious few places in and around the engine room.
The player - and Bayern as a whole - also received a reminder at the weekend that nothing should be taken for granted in football. Hertha Berlin inflicted a painful 2-0 defeat on the Bundesliga champions, who currently trail leaders Dortmund by one point in what is shaping up to be the most competitive league season since Bayern embarked on their run of six consecutive titles back in 2012.
But after struggling so desperately to reproduce his scintillating early form for Benfica and Portugal after a huge move to the Allianz Arena, there is no doubt that Sanches is on an upward path. A repeat of his Champions League heroics on Tuesday against Ajax would only cement that new-found confidence, and further remind the world that the teenage midfield dynamo who lit up Euro 2016 is back to his best.