Malaysia Cup
Irfan guides Terengganu to Malaysia Cup semis once again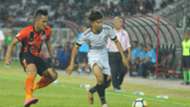 In his last reign with Terengganu, Irfan took the team all the way to the final before losing to Negeri Sembilan in the final in 2011. Now back with the club once again, the 67 year old is hoisted as the hero as he leads them to another semi-final outing.
One player who was with him seven years ago and who is still in the team is Ashaari Samsudin but the forward was not on his best form despite Terengganu's 4-3 win over Felda United in the second leg of the 2018 Malaysia Cup quarterfinal.
The veteran was replaced by Faiz Nasir seven minutes after half time and turned the game around when it looked like the home side were heading out of the competition as Felda was leading 0-2 at that time. 
Thiago Aquino and Syamim Yahya had turned the tie around from the first leg where Terengganu claimed a 1-2 win in Jengka to give Felda the lead in the aggregate score with 3-2. But the diminutive Faiz provided the spark that initiated Terengganu's comeback.
Lee Tuck and Adib Aizuddin scored to make it 2-2 on the nigh and swung the advantage back to Terengganu. But Gilberto Fortunato once again gave Felda the lead with an overhead kick with only 10 minutes of normal time to go.
The tension at Sultan Ismail Nasiruddin Shah Stadium was finally eased when two late goals from Malik Ariff and Tchetche Kipre put Terengganu through to the next stage with an aggregate score of 6-4.
The defeat also meant that Felda and B. Sathianthan could not replicate their feat from last season where they reached the semi-final stage.
What say the coaches
Irfan: I hope there will be no more home games like this. Normally we win the away games easily but tonight (Friday) we didn't start playing football until the second half. When I brought on Faiz, it was to give us more width and ensure that we keep the ball. That's because earlier twice Ashaari lost the ball and we conceded.
Sathianathan: We were leading but we were careless at the back. Congratulations to the players that they can play without our injured star players. We were unlucky not to score more but we weren't good defensively. When we were 3-2 up, we should have closed shop but we didn't do that.
Follow Goal Malaysia on Instagram