D2D sports organises Fan Club Futsal Cup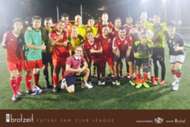 Calling all football fans, the Fan Club Futsal Cup is here. Organised by D2D sports which also manages the Fan Club Futsal League , the Fan Club Futsal Cup will be held on the 21st of July at the Home United Youth Football Academy; located along Mattar road.
The event will start early from 10am onwards and participants are encouraged to arrive earlier so that they may prepare and do their warm-ups. A team will consist of seven players and the duration of each match will last for seven minutes per half with one minute break in between. Slots are limited to 16 teams.
Registration fees are as follows:
1)$150 if a team registers by 9th July.
2)Should teams register after 9th of July, the fee wil be $180
3)However if they sign up for my league season 3, the fee will be $150.
4)Lastly, the fee will be $250 for 2 teams if registrants submit 2  teams
Moreover there will be Cup & Plate prizes to be won, so for teams that finish in 3rd n 4th position in the group, they would still have games to play. So, what are you waiting for, get your teams ready and register. One can register at  at www.d2dsports.com. For further enquiries contact rasvinder@d2dsports.com.