Transfers
Inter aiming to extend deal of Man Utd target Perisic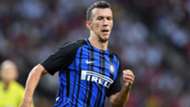 Inter have dealt a blow to Manchester United's pursuit of Ivan Perisic by insisting that their aim is to tie the Croatia midfielder to a long-term deal.
Get odds on Inter to win Serie A
The Premier League outfit have been associated with a move for the 28-year-old for several weeks now, but find themselves pitted against a club determined to preserve one of their premier attacking stars.
"He's a big player," admitted sporting director Piero Ausilio told Premium Sport. "We're deal with his renewal. It's what we want at a company level."
Meanwhile, defender Andrea Candreva is not a player they are willing to sell either.
"He was signed last year, he is an international and he's never been a player we've thought of giving away," Ausilio said. "It's the same as Perisic."
In terms of arrivals to San Siro, meanwhile, the official admits that a move for Bayern Munich midfielder Arturo Vidal quickly stalled.
"There was nothing," he stated. "We immediately realised it would be almost impossible. We know how Bayern work, there would be no circumstances that could have allowed it."
OFFICIAL: Neymar signs for PSG
On the other hand, Caen youngster Yann Karamoh could move to Italy, but it seems there is something of an impasse with the Ligue 1 club over the rapid striker's fee.
"There's been interest on our part and we've made an offer, but we're still far away," Ausilio concluded.