India
Indian National Football Team: Stephen Constantine reveals why Cambodia were the perfect choice as opponents
12:08 AM GMT+8
22/03/2017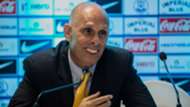 India take on Cambodia in Phnom Penh on Wednesday, and ahead of the encounter, head coach Stephen Constantine was quizzed upon various aspects leading up to the game.
He made it clear why the friendly against the Cambodian side was important, given that India visit Myanmar next week to play their first 2019 AFC Asian Cup qualifier.
"For us it is an important friendly. We have a difficult game after this with Myanmar. Coming to Cambodia means similar conditions, similar weather. I think it will be an interesting game for us. I wish Cambodia's new coach (Leonardo Vitorino) all the very best and good luck except not so much good luck tomorrow. We are taking this game very seriously and we are trying to give our best performance," he opined.
He was made to reiterate his choice of opponents for the international friendly, and he elaborated on how the choice was a no-brainer for the Blue Tigers.
"My first views to play Cambodia was that it is very close to Myanmar and the conditions are very similar. They have recently played them in the AFF Suzuki Cup so it will be a good experience for us and will be close to how Myanmar play. Although Cambodia have a new coach and he will look to change somethings, but this was the main reason," he felt.
Cambodia vs India Preview: Stephen Constantine's men look to get back on the pitch with a win
An ominous news for the Blues' faithful was that a few players would be injury concerns for the game. However, Constantine stopped short of divulging who all were a part of that list.
"Yes, we have two or three players who are 50-50 for this game," he revealed.
India made a choice of staying in Cambodia for an additional two days after the friendly instead of flying right off to Myanmar.
"Well, we wanted to stay here. We won't be able to train the same way over there. I am sure they (Myanmar) do not want us to be there too early. So, we decided that we will stay here for two or three days. It is better for us," he explained.
Indian National Football Team: Know Your Rivals - Cambodia
This is Cambodia gaffer Vitorino's first game in charge since his appointment after a dismal 7-2 loss to Saudi Arabia. Constantine, on a lighter note, wished him all the luck after the game was done!
"I did not come here to lose. I wish him all the best from the day after, but not tomorrow," said the Englishman.
When asked for special targets in the Cambodian team, Constantine refused to bottleneck it down to a few, but rather said the whole side was capable of hurting the visitors.
"All of them. Anyone can hurt you anytime. I have seen them play two or three times and they are a good team with good intensity," he concluded.