India
Indian Football - India National Team rise to millennial record of 101 in FIFA Rankings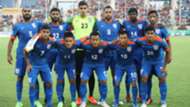 The Indian National football team has done it. After 18 years, India has accomplished it's highest ever position in the new millennium, after climbing to 101st place in the recently published Federation International de Football Association (FIFA) Rankings of March, 2017.
The Blue Tigers have accumulated a total of 331 points. The last month's total saw them net just 233 points. The team from the subcontinent has risen 31 places on the ladder, second only to the Republic of Macedonia.
The near historic rise in rankings has seen the Stephen Constantine-managed team leapfrog the Democratic Peoples Republic (DPR) of Korea, Thailand, Latvia, Jordan and Iraq to name a few. In fact, India is tied on points with Estonia, Lithuania and Nicaragua.
Luke Shaw determined to prove Man Utd critics wrong
The 98 points increase in the 2015 South Asian Football Federation's (SAFF) champions has come about thanks to two important victories - a 3-2 win over Cambodia in a friendly, which preceded a 1-0 win over Myanmar in their Asian Football Confederation's (AFC) 2019 Asian Cup qualification opener.
Amongst the teams from the Asian Football Confederation (AFC), India have risen eight places to 11th amongst 46 teams, with Iran, ranked 28th internationally, leading the way.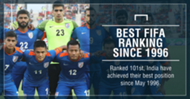 From teams in the SAFF, India continue to build a widening gap. Maldives are now placed 151st, while Bangladesh (193), Nepal (170), Bhutan (164), Sri Lanka (197) and Pakistan (201) are ranked much lower.
Among India's primary opponents in the 2019 AFC Asian Cup qualification group, Kyrgyzstan have fallen a place to 128th, while Myanmar have risen 11 places to 166th. Macau are unchanged from 184th. 
Brazil have overtaken Argentina and now lead the international standings followed by Germany, Chile and Colombia.
The rankings leave India in an optimum position to penetrate the top 100, as they last did in 1996, rising to 94.