Indian Super League
Indian Football: East Bengal ready to pay 'reasonable' fee for entry to Indian Super League
10:30 PM GMT+8
14/09/2017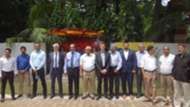 The two-member team representing FIFA and AFC visited three clubs - Mohun Bagan, East Bengal and Mohammedan Sporting on Thursday. FIFA's Nic Coward and AFC's Alex Phillips, accompanied by AIFF representatives Sunanda Dhar and Chirag Tanna took a tour of the clubs to have a look at their infrastructure.
The club officials presented their point of view on the roadmap of Indian football and also mentioned that they want one single top league in India where they would like to participate.
After the meeting in East Bengal, club official Debabrata Sarkar said, "We said we want one single league operating with 18 teams which will have promotion and relegation system. We also told them about the club's legacy and our contribution to Indian football in the past 98 years.
"We clearly mentioned that there is no question of paying an exorbitant franchise fee. We can pay an entry fee provided it is reasonable."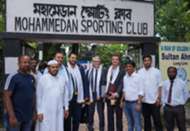 According to the ISL rules, if a club has to join the league, they have to pay a hefty franchise fee to the organisers IMG-R. Bengaluru FC joined the tournament this year after spending four seasons in I-League.
All the Kolkata clubs stressed that a decision should be made on the future of Indian football keeping in mind their legacy and history.
The FIFA-AFC representatives will be meeting every top club in India and will do a market survey on the basis of which they will file a draft report which is expected to be submitted to the AIFF by November.