India U18
India U17 National Team: Nicolai Adam - I am great friends with Stephen Constantine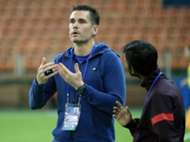 The India Under-17 national team suffered yet another defeat, this time to ten men Tajikistan on Friday with Sharipov Umarjon scoring the lone goal.
German coach Nicolai Adam stated that despite the results pointing otherwise, India is on the right track.
"I love my job, but sometimes it is very hard, as it's bitter to watch my team lose. I think that this is a good experience for us. Unfortunately, not everything went according to the scenario we developed. But I still believe that team India is on the right way of development," he mentioned.
Adam was asked if he is given advice by Indian national coach Stephen Constantine and whether he opts for a similar tactical system as that of the senior team.
"We are great friends with him. We contact a lot! But I am travelling, and he stays in India mostly. He has his own team to work with, so he does not give any advice to me," said Adam.
In place of Aguero or out wide - where will Gabriel Jesus play in Man City line-up?
The former Azerbaijan youth coach pointed that Indian players were weaker physically and that proved to be a crucial factor in the competition. He further went on to claim that the 8-0 trouncing at the hands of hosts Russia was more due to his team not being in the best condition to compete than the brilliant performance of their opponent.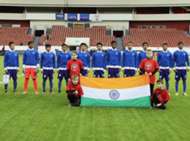 "I can repeat once again that the World Cup is our main goal. To tell you the truth, before the tournament I thought we would lose all our matches. I must admit that we are weaker physically and we are younger than other teams. But I am satisfied with the way we represented India, as we showed competitiveness. I do not want to offend anyone, but I believe that is was not the good play of the Russian team, but the fact that we were not ready to compete against Russia rather.
"We played very well in other five matches. We had time to create our style and philosophy. Our players are shorter than their opponents by nature. But this has positive sides. If you want to develop, you need to play against taller, stronger and older guys. This is the way to progress. In other case, the German scenario can happen, when the U-19 players were winning everything, but when they got into the adult championship, they almost got lost, because they were not used to play against older opponents. We lacked the last pass on this tournament, but this is a thing that can be corrected over time," he reasoned.