NPFL
I'm not under pressure to keep Heartland in the NPFL - Ere Dokubo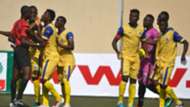 Ere Dokubo insists he is not under any pressure to help Heartland escape relegation following Sunday's 1-0 defeat to Enugu Rangers at the Nnamdi Azikiwe Stadium.
Going into the encounter, the Naze Millionaires had defeated fellow strugglers Go Round 1-0 to ease their relegation fears in Owerri but Ifeanyi George's second-half effort saw them bow to the Flying Antelopes in Enugu.
With growing fears of a likely demotion from the elite division, the gaffer says he is not facing any heat from the club management.
"I am not under any form of pressure from the management because I have a target before joining the team in the second round," Dokubo told media.
"I met the team at the bottom of the table and if the team does not leave where they've found themselves, nobody will apportion blame on me but if they are able, it will be a plus to me.
"The fight to meet my target is only the pressure I am putting on myself, and not that the management is putting me under any kind of pressure."
On their defeat at Enugu Rangers, he expressed disappointment at his side's poor display, describing the loss as their 'worst in the second stanza.
"This is the first time I lost to Enugu Rangers because I was not in charge of Heartland when they lost in the first stanza," he continued.
"The red card really worked for Enugu Rangers. Nobody will be comfortable playing one man down  - we never anticipated it and it spoilt our game plan.
"This is one of our worst games we have played so far this season and I really can't tell what went wrong with some of my players. 
"Sometimes, it happens like this. What you expect from the players is not always what you get. I never expected we were going to play like that. It was one of the worst game in the second stanza."