Transfers
'If our ground at 200,000 seats, we could fill them' – Guingamp coach looks forward to Neymar visit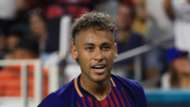 Guingamp coach Antoine Kombouare is eager for Paris Saint-Germain's world-record signing Neymar to visit the Bretons' Stade du Roudourou.
Neymar completed his €222m move from Barcelona to the Ligue 1 giants on Thursday and hopes to feature against Amiens on Saturday in the opening league game of the season.
Should he miss that encounter, however, he would likely make his bow in Guingamp on August 13 – a prospect that PSG legend Kombouare is salivating over.
"If the Roudourou had 200,000 seats, we could have will them all," he told the media. "People will come from all over the world – and I mean it."
Guingamp will not, however, lie down meekly to the Brazilian and his new colleagues.
"It's a great chance to see Neymar here, but above all, to do everything to shock him," he continued. "It would be great to be able to show Neymar to our supporters and to say: 'Neymar, you will suffer your first defeat at the Roudourou.'
"I like that idea a lot."
Neymar makes PSG CL contenders
Despite his desire to see the Brazilian beaten at the hands of his side, he is delighted that such a player has chosen to move to France.
"It's exceptional," he said. "We must not be afraid of saying it: we must thank Qatar. We must thank PSG.
"Thanks to PSG, Ligue 1 will be known all over the entire world."
PSG have historically struggled at the tiny Breton ground, suffering defeats on two of the last four occasions they have made the trip to France's far north west on league duty.