World Cup
'Icardi isn't in Messi's magic circle' - Barcelona star influencing Argentina selections, says Crespo
Mauro Icardi is the best penalty box striker in the world, according to Hernan Crespo, but is being overlooked by Argentina as he sits outside of Lionel Messi's "magic circle".
The Inter striker could still finish the 2017-18 campaign as the top scorer in Serie A, with his 28 efforts leaving him just one short of Lazio's Ciro Immobile.
There is, however, every chance that he will be overlooked for World Cup 2018 duty by his country regardless of what he achieves at domestic level.
Argentina are blessed with an abundance of riches in the striking department, but former Albiceleste frontman Crespo feels Icardi finds himself on the fringes of the fold as he is not a close friend of influential Barcelona talisman Messi.
He told Gazzetta dello Sport: "It seems to me that Icardi is not one of Messi's friends.
"The national team is now made up of a magic circle, do you understand me? Icardi is not part of the circle and therefore, unfortunately, he will not go to the World Cup in Russia. This is my opinion.
"The team needs a striker like him, but [Jorge] Sampaoli and Messi think otherwise."
Crespo remains bemused by Argentina's reluctance to select Icardi on a regular basis, with it his opinion that the 25-year-old is an elite performer on the global stage.
He added: "In the penalty area, no other player in the world is as good as him. When he gets the ball, he's deadly.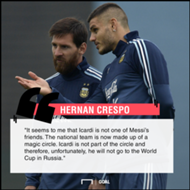 "Of course, if you want to build a move from deep, then [Sergio] Aguero is more suitable.
"After Cristiano Ronaldo and Lionel Messi, who are both from another planet, there are many strikers who could potentially be considered as the third best in the world. In my opinion, Icardi should definitely be considered among them."
With that in mind, ex-Inter star Crespo is desperate to see Icardi remain at the San Siro this summer.
He is among those reported to have attracted interest from Real Madrid, in their ongoing search of further firepower, and talks regarding his future are planned at the end of the season.
 
"Inter must do everything they possibly can to keep him," said Crespo.
"The Nerazzurri directors are good and will solve his future no problem."