Goal United
I should be fit for England despite missing Wales win, says 'buzzing' Hennessey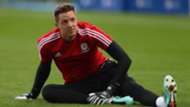 Wayne Hennessey insists he is delighted for his Wales team-mates despite missing out on their opening Group B win against Slovakia on Saturday.
The Crystal Palace goalkeeper suffered a back spasm on the morning of the match, ruling him out of the 2-1 win which marked Wales' return to international finals football for the first time since 1958.
But Hennessey told reporters afterwards that while he was initially disappointed to miss out, his main concern was that his side secured three points.
"When I woke up this morning my back seized up and I couldn't even put my own socks and trainers on. It was an upsetting time for myself, but our motto is 'Together Stronger' and it's all about the boys," said the 29-year-old.
"I had one when I missed the Liverpool game for Crystal Palace, I had an exact similar one. So I'll have an injection now and I'll probably be back in 24 hours, which sounds crazy!
"It just happens every so often, it's quite common. It's just one of those things, it's a quick turnaround that you go from broken to mended in about 24 hours."
Given the timescale of his previous issue, Hennessey is confident he will be in the picture for a start when Wales face England in Lens on Thursday.
"I hope to be in contention because I always like playing against England. It's a massive game and a massive occasion for us.
"I'm buzzing for the boys and everything. This result is massive for Wales and I just hope now that we have no problems and everyone's fit and healthy going into the game against England strong."
Wales will head into that game in a good position to qualify thanks to England's opening draw with Russia, coupled with the expanded format of the tournament which will see four third-place finishers progress to the last 16.
"It's massive to get off to a good start, which we have. The boys looked comfortable and I'm really pleased for them and we go into England now with three points on the board, which is good."