I-League 2nd Division
Amidst the poor standard of Delhi football, Hindustan FC are defying all odds
(With inputs from Anselm Noronha)
11:31 AM GMT+8
09/05/2018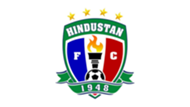 Hindustan FC, founded in 1948, have been the flag bearers from the capital in the second tier of Indian football, having participated for a record 14 times. 
Interestingly, club president DK Bose states that the team is focused on reaching the top-tier of Indian football. That can be gauged by their current group standings. "There is not much motivation to play in the second division anymore. We are very eager to move to the first division of the I-League, either through the corporate quota or via qualification," DK Bose told Goal.
Contesting in the top-tier can be challenging, both on and off the field. While having a massive budget doesn't guarantee success, in order to compete at a certain level, the club's budget has to grow. But president Bose believes that clubs can work wonders even on a tight budget, citing reigning champions Minerva Punjab as an example.
"To sustain in the first division you require a minimum of six to seven crores (INR) but look at Shillong Lajong or Aizawl who qualified with a small budget, (which proves) there is an exception as well. Also look at Minerva (Punjab) - with a limited budget they became the champions. So if Minerva and NEROCA can do it, why can't other clubs?'' he retorted.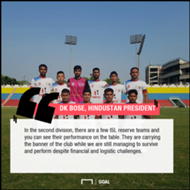 While Bose is working on the future of the 70-year-old club, coach Vikrant Sharma is relishing his debut managerial stint at a second division club. Under his guidance, Hindustan sit second in Group A, just below Real Kashmir on goal difference. Undefeated so far, Sharma is impressed with the team spirit. ''Nobody can guarantee results but as long as you are passionate and giving your 100 percent, results will automatically follow,'' he asserts.
However, the former Dempo SC goalkeeper has pointed out the drawbacks in Delhi football. "Coaching Delhi boys is very difficult because technically they are not as good as other boys in India. The thing that Delhi clubs lack is financial muscle power. Somehow Mr. Bose is managing it like Churchill Brothers do and it is commendable.''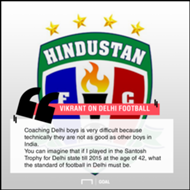 Sharma mentions that the lack of competitions in the capital city hurts its budding footballers. Further, he adds that substandard quality of coaching has also been an alarming issue. "The problem in Delhi is that the boys don't get many tournaments to play. There are only the Delhi leagues. I am now 44-years-old; I left Dempo around 2002. You can imagine that if I played in the Santosh Trophy for Delhi state till 2015 at the age of 42, what the standard of football in Delhi must be.
"You get players from schools and colleges, but we don't have coaches who have played at a good level to make them technically sound. So when you are not technically sound and come at this level, you can easily see the difference between a mature and an immature player.
"Maturity comes with time. The more tournaments you play and the more you play against better teams is how you learn, but that is not the case in Delhi, where you hardly get any tournaments to play.''
With 19 points garnered from nine matches in the preliminary round, Hindustan have sealed their spot in the final round. Taking into account the quality of Delhi football and the performance of Hindustan over the years, Sharma believes the boys must be credited for 'fighting against all odds'.