I-League
I-League: Bhaskar Ganguly questions Khalid Jamil's appointment as the head coach of East Bengal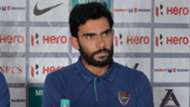 East Bengal trail league leaders Minerva FC by six points ahead of their crucial I-League fixture on Tuesday afternoon. The Red and Gold brigade need to defeat the Punjab-based club if they harbour any hopes of winning their maiden league title.
Club legend Bhaskar Ganguly however, questioned the appointment of Khalid Jamil as the head coach of East Bengal as the club hasn't been impressive despite having a formidable squad. Under Jamil, the club has suffered twin defeats to arch rivals Mohun Bagan.
"I didn't know anything when Khalid Jamil was recruited. I got to know after he was appointed. When they asked for my suggestion I told them to appoint Mridul Banerjee. But after that the officials did not feel necessary to get back to me," he told Goal.
"I don't know if my inputs have any value at East Bengal. If someone wants to remember my contributions to the club then it is good. It is not that I played for free but yes, there is a soft corner for East Bengal. I have nothing left to gain from football. If they want any suggestion from me, I will help within my limited knowledge," he added.
Ganguly believes that the Kolkata outfit needs to win at least four of their final five matches in order to have any chance of clinching their first I-League title.
"The damage has already been done and now we have five matches in hand we have to concentrate on that. We have to win at least four of the remaining matches to have any realistic chance of winning the title. 
"The club is in such a condition that even if the coach (Jamil) is shown the door right away it will not help East Bengal. We have five more matches and let us put forward our best game so that we can be champions," he opined.
Manoranjan Bhattacharya has a bigger say in the day-to-day operations of matters relating to the first team. Ganguly hopes that under Bhattacharya, the club can revive their fortunes.
"I am hoping against hope. Manoranjan Bhattacharya has done well with the little time he has had. I feel if he was given more importance from the beginning of the season, things would have been much better," said Ganguly.