I-League
I-League 2017: Sanjoy Sen: 'ISL or I-League - we want Indian football to move up'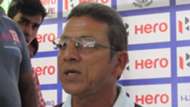 Mohun Bagan are currently on an unbeaten run of six games in the I-League and have won their last four fixtures including their opening three ties of the ongoing season.
The Mariners have beaten Churchill Brothers, Shillong Lajong and Minerva Punjab to currently see themselves level on points (9) with Bengaluru FC on top of the standings.
Preview: Shillong Lajong v Minerva Punjab
"The title race is not going to be Bagan vs Bengaluru. Lots of teams are yet to settle. There's going to be competition. Teams like Chennai and Churchill are improving. They will only get better. If we're going to win, we should treat every match as important. We're not thinking about last three matches. It is not going to be easy. We have to fight for every ball and expect a tight match," said the coach of the Kolkatan outfit, Sanjoy Sen, on the eve of their clash against Chennai City. 
Having played the last three games at the comfort of their home, Bagan will be travelling for the rest of the month which also sees them play against Colombo FC in Sri Lanka in an AFC Cup encounter.
"We are playing two away matches now. We want to get six points from these matches. We don't have any injury concerns in our travelling squad. If you have a proper squad, injuries are not a problem. If somebody is injured we have other players ready," Sen stated.
Zidane defends Ronaldo over form dip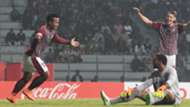 The former India coach refused to get carried away with their last result, which was a 4-0 win over Minerva Punjab as he admitted there were still areas upon which they could improve.
"Every session we have to learn. There's a lot of space to improve. Even though we scored 4 goals against Punjab, we've done things wrong and maybe we will correct them. I wanted a video analyst in my technical staff. At the end, we can analyse whether it is a success but it helps us a lot right now," he commented.
Liverpool team news & likely line-up
Sanjoy Sen also shared his thoughts on the merger talks between the Indian Super League (ISL) and the I-League that is expected to take effect after the U-17 World Cup that will be staged in the country.
"We want Indian football to move up, whether it's ISL or I-League. Players (have to) look after their careers, whether they are playing in the ISL or the I-League. It's good that the AIFF (All India Football Federation) is trying to clear the air over what's to be done for the future. Maybe, in 2017, we'll have a better picture," he signed off.