I-League
I-League 2017: Haroon Fakhruddin Amiri - 'I want the people to see the real face of Chennai City coach V Soundararajan'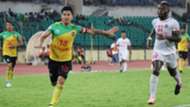 Chennai City FC's Haroon Amiri was left in utter shock when he was told head coach V Soundararajan accused him refusing to take part as a substitute in their 2017 I-League game against Bengaluru FC at the JL Nehru Stadium, on Wednesday.

Chennai City's Soundararajan - 'Haroon Amiri refused to play for the team as a substitute'

Having scored against former employers DSK Shivajians in the last round, Amiri did not expect to be left out while facing title-holders at home. On Wednesday, Chennai City's head coach V Soundararajan relegated him to the bench and the 27-year-old took the decision in his stride but the coach came out later and told the media of Amiri's alleged disagreement on his choice.

"Everything is a lie. All the things he (coach Soundararajan) told in the media are lies. I have never misbehaved nor did I refuse to warm-up. I saw my name in the substitutes and I was okay with it but I was also surprised given that I had scored two goals recently. Nonetheless, I was hoping I would be called on as a replacement but the coach did not look at my face and tell me to go warm-up during the game", Amiri confessed to Goal after the former Afghan national was taken aback with the accusations hurled on him.
 
The former Dempo SC man went on to reveal that Soundararajan's team selection is based on nepotism. "He wants to put local players in the positions we play in (referring to a couple of more teammates). He has some kind of inside or outside pressure, I don't know but he puts all these local players in from his other team (Southern Railways)."

V Soundararajan in fact has a dual role being the head coach of the Chennai City FC team in the I-League and the Southern Railways team in the local office league.

Blind eager for Mkhitaryan return

"He knows that we are exempt from relegation and he does not care about winning or losing. He just wants to play them in the I-League and when we ask why we are not in the team, he has nothing to say. He doesn't know which player to play in what position. I swear, I have never seen such an unprofessional coach in my entire career", Amiri said in disgust.

A furious Amiri further lashed out on the former Andhra Pradesh coach, "I have never done what he has accused me of. He has come out in the media and lied about me. I do not care about playing or not playing. I have been in India six years and I have never been subjected to this. I care about my image more than playing for Chennai City FC and that too under such a coach who is lying to people and the media about me."

"He is trying to antagonise the non-local players and then finding a reason to release us but we have kept silent. I have had a chat with our team owner Rohith Ramesh and he said that it is a misunderstanding and coach and I need to speak alone and sort this matter out. He doesn't even have the guts to speak alone. I tried to ask him what he told of me to the media after the game in the team bus but the did not reply and told that he won't speak to me", narrated the former Mohun Bagan man.

Idolise Kante, and not Messi or Ronaldo

Amiri concluded,"I want the people to see the real face of Chennai City coach V Soundararajan."

Goal reached V Soundararajan for a comment but he was unavailable at the time. We will fill in with more details once we have his response.

However sources close to Chennai City FC have told Goal of a similar incident involving another player in the squad and many more eccentricities involving the coach in question. They have also backed up Amiri's claim and said that there was a heated altercation between the two after Soundararajan had lashed out publicly at the player in the post match conference.

Chennai City meanwhile FC lie tied on points with Mumbai FC (10) but away from the bottom position due to a better Head to Head. They are however exempt from relegation this season. However, this incident would reflect poorly on the team management and it remains to be seen what the next step of action is from both the coach's and player's camps.