I-League
I-League 2017: East Bengal do a U-turn about playing at Mohun Bagan ground after fan uproar
11:09 AM GMT+8
22/12/2017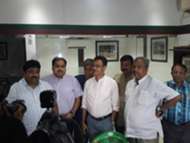 Within 24 hours of fuelling speculations, East Bengal took a 180-degree turn from their earlier position and made it clear that they do not have any immediate plans to use Mohun Bagan's ground for its home matches.
East Bengal and Mohun Bagan are embroiled in Indian football's longest standing rivalry that has stayed relevant for almost a century now and the proposal to use the arch-rival's infrastructure for their I-League home games was seen as a humiliation by a majority of the Red and Gold fans.
East Bengal official Debabrata Sarkar had earlier expressed his interest in hosting the club's home matches in I-League at Mohun Bagan ground if permitted by the All India Football Federation (AIFF).
This was mainly due to the notorious astroturf at the Barasat Stadium, which has resulted in a number of serious injuries in the last month or so. The Salt Lake Stadium is unavailable due to ATK's home matches in the Indian Super League (ISL).
"We will request the AIFF to allow Mohun Bagan to use their ground for their home matches. We may also use their infrastructure for our home games after discussing the matter with Bagan officials," Sarkar was quoted by Bengali daily Anandabazar Patrika on Thursday.
However, the plan did not go well with the club's supporters, who protested the decision and raised the question on whether Sarkar can take such a big call without consulting the club faithful once.
The daylong wave of attacks on social media has finally resulted in the volte-face by the long-standing official, who clarified his stance in an interview to the club portal later in the day.
Sarkar said, "I never said East Bengal will use Mohun Bagan ground for their home matches. The floodlights installation work is almost over at our own club ground.
"We have plans to organise our home matches in I-League at our own stadium in the future.  The Astroturf in Barasat is not the best to play football matches. It may affect the players. We have to think about the footballers' safety.
"So if the coach (Khalid Jamil) does not have a problem, we were planning to play our home games at Mohun Bagan ground.
"In the past, the two clubs have played in each other's grounds. I still remember we played the historic 1975 IFA Shield final at the Mohun Bagan ground.
"But fans are the most important pillar of the club. The club is nothing without them. So if they do not want us to, we will not play matches at Mohun Bagan's ground."