I-League
I-League 2017: Bengaluru FC's Albert Roca - 'We know we are out of title contention but we will try to win'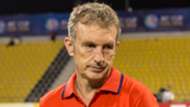 As they gear up for a third consecutive fixture against Mohun Bagan, Bengaluru FC head coach Albert Roca has said that his team are not short of motivation, while acknowledging that their chances of defending their titles are all but gone. 
He stated, "Motivation is to play against Mohun Bagan. It's a team that everybody respects and this is a big motivation. We know we are out of title contention but we will try to win that game for sure." 
The Spaniard went on to assess that The Mariners held an advantage going into this marquee clash because of the fact that many of his players have played two matches during the recent international break. He said, "It is a little advantage to them. In four days we have an important game in Maldives. We will have to manage the situation and play with a team tomorrow that can win."
"It's a difficult moment for us. Players are coming from the national team and we couldn't prepare the way we wanted to before this game. My team had seven players in the national team. But it's difficult to manage. I will try to press my players and make a good match," he added. 
Preview: Mohun Bagan vs Bengaluru FC
The Southern Eagles languish in fifth position following a bad run of form which has seen them win just a single match in the last ten league games. When queried as to whether he needs to make changes or re-evaluate his philosophies, the gaffer responded, "Football is like this. It cannot be that every team is winning all time, it will be very boring then. We have teams like Mohun Bagan and East Bengal in the competition. Bengaluru made changes - one is the coach. I understand it's not always easy to build something. I have been here even not one year ago. I have tried to move things and make changes." 
The 54-year-old also shared thoughts on his team's struggles to score goals despite creating chances. "We have had more opportunities to score. But it has not happened like that. It's my mistake. But when we try to change things, it's not so easy. We want to be more balanced, on the way to keep the ball and have possession but also create more chances to score," he elaborated. 
The former Barcelona assistant coach was asked what he expected from Saturday's clash since they have played the Kolkata-based team at home twice in three days before the break. He replied, "It's gonna be difficult tomorrow. They have to get three points and want to finish top. We are expecting a difficult game but we are current champions. We will try to do our best for our supporters and for the team. We have a lot of respect for Mohun Bagan and their history. But we have to be competitive. We will do our best."
"Mohun Bagan has a good balance between defence and attack. Sony is one of the best foreigners in the league," he added.
Roca also confirmed that Bengaluru FC will be without the services of right-back Rino Anto and goalkeeper Lalthuammawia Ralte for the clash.